Trade Update: St. Louis Cardinals and Cleveland Indians Exchange Players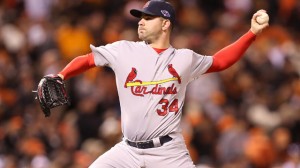 To update my earlier article on the Cardinals' potential trades, the organization did complete a trade this afternoon sending left-handed relief pitcher Marc Rzepczynski to the Indians in exchange for infielder Juan Herrera.
Rzepczynski was acquired in 2011 by the Cardinals and was an integral player on the 2011 World Series winning team.  In 2012 Rzepczynski appeared in 70 games for the Cardinals primarily in the role of left-handed specialist going 1-3 with an ERA of 4.24.  Rzepczynski has recently fallen out of favor in the Cards bullpen spending most of the season in triple-A Memphis where he has played 32 games.  He has appeared in 11 games, pitching only 10.1 innings with an ERA of 7.84 for St. Louis this season but has been passed over in the system by prospects Kevin Siegrist and Seth Maness for crucial relief appearances.
In exchange for Rzepczynski the Cardinals have acquired a 20 year old middle infielder from the Cleveland Indians.  Juan Herrera has primarily played shortstop this season for Cleveland's low-A ball team, the Mahoning Valley Scrappers, batting .275 with 1 homer and 11 RBIs in 39 games.  Last season for Cleveland's rookie league team, Herrera played 21 games at second base and 9 games each at short and third.  He batted .283 with 15 RBIs in 39 games.