Cell Phone Review: HTC One – The One That Won Me Over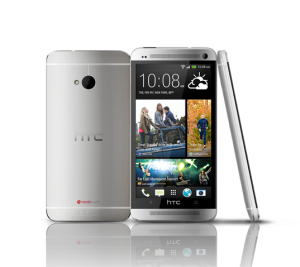 There comes a point when enough is enough. You just upgraded to a new smartphone, but then something better always comes along! And your current device doesn't magically stop working just because it's been replaced by this year's model. In my review of the One X, I touted it as "the One" to buy. A year later, there's a new "One" in town, but is it enough of an improvement to make you upgrade? Especially when Android's #1 smartphone maker, Samsung, is slinging their new baby: the Galaxy S 4. Since Engadget put the HTC One at the top of their Summer 2013 Smartphone Buyer's Guide, it's definitely a phone you don't want to overlook.
"Quite simply, the HTC One is the best, most well-rounded smartphone on the market today."
– Engadget
The technology in this year's crop of smartphones is simply amazing. I probably don't need anything more than a quad-core CPU. I can't imagine needing anything beyond a 1080p display. 4G LTE is faster than most home internet connections. I can use my phone as a debit card. They even come with IR transmitters now, so that your phone can turn on your TV, cable box, and sound system. Open up a TV guide app, tap on a picture of the show you want to watch, and it'll change to the correct channel. Insane!
New Software
Before we dig into the HTC One's hardware upgrades, let's talk software. HTC has radically changed the look of their software package, called "Sense". It's an Android skin that gets bundled in with various software features like custom widgets and apps that you'll only see on an HTC device. In a way, they're augmenting your Android experience.
BlinkFeed is probably the most visible change. Upon completion of setting up your HTC One, you're greeted with the tiles of status updates and news stories. This neverending stream of updates resembles Flipboard in a way: one central location that pulls in statuses and articles from your social networks and favorite websites. Facebook, Twitter, the TV app, the Gallery app, your calendar entries, Flickr, LinkedIn, news sites such as AP, HuffPo, Reuters, ESPN, CNET, tech sites like Gawker, Engadget, Gizmodo, The Verge… all of it side by side in a single feed. Sliding to the right of your BlinkFeed brings you to the normal Android homescreen where your apps and wallpaper are visible.
According to some, all these extra features are a nuisance. The goal for HTC is to stand out from the competition, but what they do to achieve that goal is all a matter of preference. You can't uninstall the added software features, so if you don't want them, your option is to install an app over it or buy a different phone completely. Either way, the software never actually gets removed from the phone, so it eats away at your available internal storage. Luckily Google provides an "undisturbed" version of Android on the HTC One, but for the unsubsidized price of $599, it's a lot more than the usual contract price of $199 offered by most carriers.
An easier option would be to just reset your default homescreen. I set mine to the second homescreen, which gave me back my familiar app desktop and allowed access to my BlinkFeed with one swipe to the left. If you've got a minute to kill, it's really nice just dipping into the BlinkFeed and scrolling through a few pages of tiles. If you really don't want BlinkFeed, you can install a new launcher like Apex or Nova. Launchers take over the main "desktop" or homescreen and app drawer part of your phone. With some customization, you could even make your HTC One look like a Samsung phone, a stock Nexus phone, an iPhone, or even a Windows Phone.
HTC's software suite for the camera is excellent, and they've carried over a lot of the things I loved about the One X and its camera. One of the new features is the HTC Zoe, a three second video clip made to be shared or edited afterwards for neat results. Recording a Zoe begins before you even press a button, so that you don't miss that perfect shot. From there, you can scrub the clip to find any missing smiles for the perfect Always Smile shot. Object Removal helps eliminate photobombers. Sequence Action Shots are an artistic way to show off an action shot within a single photo.
New Hardware
HTC also enhances their camera through hardware. In last year's One X, HTC introduced a new type of technology: the ImageChip, a dedicated processor just for camera functions. The HTC One gets an upgrade in that department, ImageChip 2, providing continous auto-focus, improved slow-motion video, and HDR video. The extra processing power really keeps things snappy for the camera and aids in real-time photo filter processing.
As for the internals, HTC and Samsung are utilizing many of the same components for their top devices. In both the Samsung Galaxy S 4 and HTC One, the newest Qualcomm chip is there. RAM is now 2GB, which is the perfect amount for a fluid Android experience. They both support the next-gen 802.11ac wifi standard. NFC capability is baked into both devices. Each phone is now sporting a 1920x1080p Full HD display. Even the new Galaxy S 4 has an IR transmitter.
So how does the HTC One separate itself from the competition? Being an HTC product, you can expect a better exterior design than your average plastic Samsung device. Each HTC One starts out as a solid block of aluminum and runs through at least 200 minutes of CNC cutting to manufacture the unibody enclosure, making it super sturdy and practically seamless. iPhone fans will very much appreciate the feel of this device in the hand.
But the biggest difference between the top two Android phones on the market: the camera. It's become one of the most important components of a smartphone, and one that needs the most improvement (beside battery technology). For this year's lineup, Samsung went one direction, and HTC went in the other.
Advancing the Camera Game
Pro's can grab a detailed camera shootout at dpreview.com, and the source data for the charts below come from an amazing detailed comparison over at MobileAndPhone.com.
Device
Sensor Size
Pixel Size
Sensor Resolution
ISO
Lumia 1020
1/1.5″
8.80 x 6.6 mm
1.12 µm
41MP
7728×5368 pixels
100 – 3200
Lumia 925
1/3″
4.80 x 3.60 mm
1.4 µm
8.7MP
3264×2448 pixels
100 – 3200
Lumia 920
1/3″
4.80 x 3.60 mm
1.4 µm
8.7MP
3264×2448 pixels
100 – 800
Lumia 928
1/3″
4.80 x 3.60 mm
1.4 µm
8.7MP
3264×2448 pixels
100 – 800
808 Pureview
1/1.2″
10.67 x 8 mm
1.4 µm
41MP
7728×5368 pixels
50 – 1600
Galaxy S 4 Zoom
1/2.3″
6.17 x 4.55mm
1.34 µm
16.3MP
4608×3456 pixels
100 – 3200
HTC One
1/3″
4.80 x 3.60 mm
2.0 µm
4MP
2688×1520 pixels
100 – 1600
iPhone 5
1/3.2″
4.54 x 3.42 mm
1.4 µm
8MP
3264×2448 pixels
50 – 3200
Note: Most 18MP-24MP DSLR's will have a pixel size around 3.9-4.3 µm for APS-C sensors (about 23×15 mm) and 6-6.5 µm for Full Frame sensors (36×24 mm).
To a degree, more pixels will capture more detail in your photos, which will generate better photos. That part isn't hard to understand. But smartphones are small devices, and fitting millions of "eyes" into a tiny space is hard to accomplish without some sort of sacrifice. The standard issue smartphone camera has a 1.4 µm pixel size, and we are all familiar with how they perform in low-light situations. The usual solution is to just add more "eyes" to fix the problem, and most consumers see the larger number on the spec sheet and think "more megapixels = better".
| | | | |
| --- | --- | --- | --- |
| Device | MP | Aperture | OIS |
| HTC One | 4MP | f/2.0 | Yes |
| iPhone 4 | 5MP | f/2.8 | No |
| iPhone 4S | 8MP | f/2.4 | No |
| iPhone 5 | 8MP | f/2.4 | No |
| Nokia Lumia 920 | 8MP | f/2.0 | Yes |
| Samsung Galaxy S III | 8MP | f/2.6 | No |
| Samsung Galaxy S 4 | 13MP | f/2.2 | No |
This is why HTC has gone the other direction: the One has a 4MP rear camera. Less pixels = more room for bigger pixels. These Ultrapixels, as HTC has branded them, are twice the size of average smartphone camera pixels. So these "eyes" in the HTC One camera can see more, but with the trade-off is that there is now less "eyes" recording the view. Compared to the 13MP camera sensor in the Galaxy S 4, HTC claims that an Ultrapixel sees 300% more light. This means your next photo in a dimly-lit restaurant, bar, nightclub, or concert will capture more light than ever, which would bring out more details hiding in the shadows, higher dynamic range, and better color reproduction in your shots.
Is a 4MP Camera a Good Idea in 2013?
Yes and no. You won't get as many pixels to work with, so cropping or zooming in on photos won't be as pleasant as with other smartphones. A lot of times, I thought my Nexus 4's 8MP camera was better when used in the same situations, but that's only after heavy tweaking on exposure settings and sometimes enabling HDR. For me, it's worth the effort to tweak for the best result. For just pointing and shooting, the HTC One is much easier.
Click here for my sample gallery of HTC One photos
The 4MP shots taken by the HTC One's Ultrapixel camera are 2688×1520, which still produces a quality 5×7″ print at 300 dpi. That should be enough for most smartphone shots. Just make sure you've got your shot framed perfectly at the time of capture, and you'll be fine. Plus it's much quicker (and eats up about half the data) to upload a 4MP image instead of an 8MP image. If you're heavy into sharing on social networks, this will be a massive benefit.
Is an Ultrapixel Camera a Good Idea in 2013?
Again, yes and no. Smartphone cameras are notorious for their horrible low-light performance. The Nokia Lumia 920 was the first mainstream smartphone to market its sensor performance and optical image stabilization as unbeatable for low-light situations. Despite questionable tactics, many considered the 920 as the reigning champion of low-light smartphone cameras. Since the 920 was released, Nokia has brought out many more contenders to the throne, but they all run the Windows Phone mobile OS. There's only one Android smartphone camera that can claim excellent low-light performance that also comes with an OIS system: the HTC One.
Click here for the full gallery
In the photos above, the HTC One (left) makes 10:00PM look like 10:00AM in Times Square. I tapped on the street in order to get it to pull in most of the shot. This makes the lit signage blown out, but something that HDR could easily have fixed. I left all the HTC One photos untouched so you can see what you'd be starting with. The Nexus 4 photo (right) was heavily tweaked before I captured. In order to get a good low-light shot on my Nexus 4, you have to turn on HDR and crank the exposure up. I ended up with a decent shot, but even for an 8MP camera you don't see a lot of detail in the street. The manhole cover, for example, is pretty clean and easy to see in the One's lower resolution shot. In the Nexus 4 shot, it's really dark and has some artifacts, despite having twice the number of "eyes" looking at it.
On the left, the HTC One captured all kinds of detail in the trees and the stone walkway. Again, I tapped to pull in the darker areas of the photo, and the Old North Church kind of washes out in the background. HDR will pull it all together, but I left the One shot untouched so you can get a direct feel for the camera. My Nexus 4 shot (right) again had HDR on and exposure settings tweaked. It's a decent shot that was able to pull in the Old North Church in the distance, but only after a lot of tweaking. And the church still could be a bit darker and the Paul Revere statue a bit brighter.
Paul McCartney at Fenway Park! Look at all the people in the HTC One's shot on the left! Look at the black abyss of nothing in my Nexus 4 photo! Again, HTC One shot probably needed HDR but I left it alone, and my Nexus 4 had a few settings tweaked. If I had focused the HTC One onto the bright lights of the stage, the shots would probably be very similar.
The inside of Poopsie's in Pembroke, Massachusetts was dive-bar-dark. On the right, my Nexus 4 captured it pretty accurately but only after tweaking quite a bit in Snapseed. The HTC One (left) almost makes it look like it's noon with the sun shining through floor-to-ceiling windows. Both shots were taken at around 8:30PM.
Is the One's 4MP Ultrapixel Camera a Good Idea in 2013?
And again, yes and no. It's not for everyone. Honestly, some situations just call for a point-and-shoot or DSLR. Even though I was able to pick up some great shots with the HTC One, remember: this is still a smartphone camera, and they are best suited to those times where you are out for the evening and just want to snap a quick pic that uploads just as fast. Low light? No problem. Slow data connection? No problem. Point, shoot, upload, repeat. The Ultrapixel camera is your "social" camera.
Personal Thoughts
You know what's going to be really good? The next Ultrapixel camera. An 8MP Ultrapixel camera would bring it back into the same circle as other smartphone cameras. The only competition at that point: the Nokia Lumia line. Slight snag for some that I mentioned above: it's a Windows Phone. If you're game for a switch in mobile OS, you might want to consider a Lumia. But across all Android handsets, the HTC One has the absolute best low-light camera.
The bezel on the sides of the screen are pretty small, so there were times where the screen wouldn't react to my taps properly because my fat palm meat was being detected. I would probably use a case that covers the edges of the screen to fix this issue. If you plan on going naked, you're going to have to ease your grip.
Safely out of that paragraph, I can now segue into something much cleaner: BoomSound. Crystal clear audio. Loud, crystal clear audio. I don't know why more devices don't have this: stereo speakers that point towards your face! I feel like I've been living my life with one speaker hooked up to my TV, and it was facing the wall behind it. For comparison, BoomSound is like finally buying a decent sound system for your TV. I think BoomSound alone makes this phone worth buying over the competition. The added EQ from Beats is a little heavy on the low-end of the frequency range (I had to drop my bass EQ in my car back down to flat, whereas I'm normally in a "jazz/scooped" EQ setting), but the punch from the kick drum coming out of that headphone jack was very much appreciated by my ears. I use a portable headphone amplifier with my Nexus 4 and it doesn't sound anywhere near as good. I'm also wishing my car had USB audio support, as the HTC One comes with it built-in. Did I mention how much I'm going to miss using this phone every day?
My biggest gripe about the phone: the stock keyboard. Thankfully, Android lets you download different keyboards, so this isn't a dealbreaker. I'm back and forth between Swype and Swiftkey anyways. I also found the lockscreen a little finicky when swiping up to unlock. I prefer the stock "circle" unlock found on my Nexus devices.
The new capacitive button layout is a little strange, but I got used to it pretty quickly. When Android started out, you had 4 buttons: Back, Search, Home, and Menu. The newer software revisions of the Android OS have removed the dedicated Search button, moved the Menu button to the apps themselves (you've probably seen the "three dots" indicating a menu option), and added a multi-tasking button to easily switch between apps in memory. In order to access the multi-tasking feature on the HTC One, you double-tap the Home button. To access Google Now for searching and your personal info cards, you long-press the Home button. The HTC logo does nothing when tapped, but provides a nice dead area to swipe up from the below the screen to close your notifications shutter, or you could also install a quick launcher like Swipepad to open up apps with one simple swipe gesture. If you plan on hacking your HTC One, the HTC logo can be turned into a usable button.
Lastly, you may have seen my previous measurements of AT&T 4G LTE in the St. Louis area, and I can assure you that the AT&T version of the HTC One that I've been carrying around can pull down some very impressive speeds. So when AT&T recently earned the title of Fastest and Most Reliable LTE Network in the Nation, I was able to test that out myself: I took this phone with me on vacation. It performed flawlessly across half the country from NYC (amidst some of the tallest buildings in the nation) to Boston (where even undergound on the T or in the middle of Cape Cod Bay I was able to grab a signal) and driving through Pennsylvania in the Pocono Mountains, where I was streaming music in high quality without a hitch for almost all of our 18 hour journey home. If you're curious about things here in the STL, Rootmetrics just published their annual report this month: AT&T landed at the top of every service category.
Conclusion
The world may be divided between iPhone 5, Galaxy S 4, and HTC One, but in the end, preference is preference. You should definitely be going to the AT&T store to try out these phones in person to see which one strikes your fancy. On the software side, you can find comparable apps and features, but when you look at the hardware, the HTC One wins hands down. The camera is innovative and versatile, and it's built for social sharing. You simply cannot find BoomSound speakers on any other mobile device. Software can always be changed, but your hardware sticks with you. For the best social and audio experience on any smartphone, you simply have to buy the One. Combine it with service from AT&T, and you've got an unbeatable duo.
For current events surrounding the One and AT&T's 4G LTE service here in the St. Louis area, head on over to Twitter and follow @HTC and @ATT_STL … and add @ReviewStLouis too. For more information on the HTC One visit htc.com.