St. Louis Cardinals' Roster Likely Set As Trade Deadline Looms
With the MLB trade deadline now just a day away (Wednesday 3pm) it seems less and less likely that the Cardinals will be making a trade.  This year so far has been relatively quiet around the league; the Cubs have had their fire sale moving Matt Garza and Alfonso Soriano, but as of yet no other major deals have been orchestrated.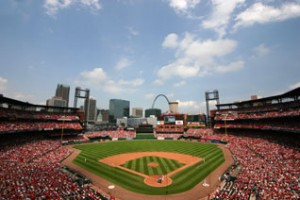 The mega deals that veterans have signed in recent years often make them too expensive to move in trade.  This combined with the recent successes of several young players (usually at very low salaries) has made teams very leery of trading away prospects for late season veteran support.  The recent expansion of the playoffs has also reduced the number of sellers at the deadline from years past; today 17 teams sit within 7 games of a playoff spot.  With so many buyers at the deadline and only a few teams looking to move talent, the price for good veteran players is very high.  The Cardinals current roster owns the best record in baseball but that does not mean they wouldn't like to add some support for the stretch run.  If they are seeking additional players, their wish list may look like this:
Starting Pitching.
There is no surprise here.  Starting pitching is likely first on every team's wish list every year and this year's Cardinals' team is no exception.  Wainwright is a solid number 1, but behind him there are concerns about Miller's and Lynn's inning count, Westbrook's struggles on the road, and uncertainty about who will be the number 5 starter in crucial August and September games.  The Cardinals would really like a starter to put in the 2 spot behind Wainwright.  The problem:  there is not a lot of top of the rotation pitching available for trade.  The White Sox are looking to move Jake Peavy but have made it clear that they want 1-2 Major League ready pitching prospects in return.  One rumor that has floated around the internet in recent weeks is that the White Sox offered Peavy for Michael Wacha and cash.  I can't fathom the Cardinals making this deal.  In addition to Peavy, the Phillies have expressed interest in trading Cliff Lee.  They are looking for 3 prospects in return as well as the trading partner to pay a larger share of Lee's salary for this season.  The former Cy Young winner comes with an additional cost.  Lee, who will turn 35 in August, is already under contract for the next 3 seasons, which will pay him $77.5 million over that time.  With this price tag, you can scratch him off the Cardinals list.  An interesting twist:  the Brewers are out of the playoff hunt.  They probably won't be motivated to trade their top pitcher Yovani Gallardo, but I wouldn't be surprised if they moved Kyle Lohse, although Brewers GM Doug Melvin denies any trade rumors with Lohse.   Finally, there has been some recent buzz about the Giants former 2-time Cy Young winner Tim Lincecum being traded before the deadline, however the Giants have stated they are more interested in re-signing the pending free agent, but they will listen to offers.
Update:  Astros pitcher Bud Norris was just scratched from his start tonight, meaning a trade is likely coming today.  Maybe the Cardinals will join the bidding, if nothing else so they don't have to face him again.
Relief Pitching.
Since it does not look like pitching aid will be coming via starters, the next place to look is for a player to bolster the bullpen.   If Joe Kelly is going to move to the starting rotation, he will need to be replaced in the bullpen.  The Cards also could really benefit with a 7th inning guy to get the game to Rosenthal and Mujica.  It would be nice if that pitcher could fill in as an 8th or 9th inning man as well to rest the two aforementioned pitchers.  An extra left- hander may be nice for the stretch run too, with so many games against Pittsburgh and Cincinnati to deal with Cardinal killers Joey Votto, Jay Bruce, and Pedro Alverez.  The problem:  if I had to describe the market for relief pitchers this year in one word, I would say "insubstantial."  For the first time that I can really remember there are almost no relievers available.  What makes it worse is that the team with the most pitching to move is the Brewers, who would be less inclined to trade within the division.  I would expect them to trade Mike Gonzalez, who could really fill a lot of roles for the Cards, before the deadline.  If Gonzalez is unavailable, the Cardinals could partner a deal with San Diego for either Luke Gregerson or Joe Thatcher, both of whom will likely be traded prior to Wednesday's deadline.  The Cardinals may also look across the state to Kansas City, who seems set on trading Luke Hochevar possibly for an outfield prospect like James Ramsey or Charles Tilson.  Finally, it looks almost certain that the Giants will trade Javier Lopez today.  The 36-year-old left-handed specialist is having a solid season with a 1.42 ERA in 45 games with the Giants.
Right-Handed Bench.
It is a tough call for third on the wish list, but I think getting some right-handed power off the bench makes the most sense.  With the failed Ty Wiggington experiment, the Cardinals really lack a power bat off the bench from the right side of the plate to compliment Matt Adams from the left.  It is possible that outfielders Hunter Pence (SF) and Marlon Byrd (NYM) will be traded.  Both are currently everyday players and would probably not relish a bench role, which leads me to believe that if either player is acquired, the Cardinals would send Jon Jay or Shane Robinson as part of a package with minor league pitching prospects in return.  Byrd is the more affordable player, making only $700,000 compared to Pence's $14 million.  Neither player has spent much time at centerfield lately, both positioned in right field, which reduces the likeliness of this trade.  Another player that may be traded is Phillies infielder Michael Young.  Young can play second, third, and short if needed and has hit 20+ homeruns four times during his career.  He is in the twilight of his career (he will turn 37 in October), however, and has not shown much power over the last two seasons.  His $16 million salary will also be a deterrent to this trade occurring unless Philadelphia is willing to pay most of his remaining salary.  Young also has full no-trade protection and has said the only team he will waive it for would be the Texas Rangers.  Alex Rios is another possible candidate to fill this role, but the same problem exists:  he primarily has been a right fielder the past two seasons and is scheduled to make $26 million over the next two years.  Not a perfect position fit, and a hefty salary usually doesn't translate into a likely trade.
Shortstop Solutions.
Some other areas that the Cardinals may focus on is some kind of move at shortstop.  Either a quick fix option or a long term solution are both possible.  This is not the most pressing issue-the Cardinals have proven that they can win with Kozma.  His defense has been above average, but it would be nice to have a little more pop from the position.  Also expect Ryan Jackson to be a September call up.  Jackson has hit near .300 all season for Memphis.  Still a short-term solution may add to the scariest lineup in baseball.  The normal names thrown around still are not coming, so just end those trade rumors now.  Baltimore is in the playoff race so there is no way that they would trade J.J. Hardy, a shortstop with 18 HRs, and Troy Tulowitzki is not on his way to St. Louis either.  Colorado is not going to trade him, St. Louis is not going to give up the entire farm system to get him, and even if they did the Cardinals would not be able to pay him the $150 million that is still due on his contract.  So with those two choices out of the way, it again leaves the aforementioned Michael Young as the leading candidate for a veteran shortstop to be traded.  If the right deal is presented, the White Sox may be persuaded to move Alexei Ramirez, who is under contract until 2016, but they are not actively shopping him around.  The 31 year old is batting .281 with 23 stolen bases, but has seen his power disappear in recent years.  He hit 69 homeruns from 2008-2011 but has only hit 10 in 2012 and 2013.  He has proven to be durable, playing in 148+ games every year of his career except his rookie season where he still played 136 games.  So far this season he has played in every game for the White Sox.  He seems like a good fit for the Cardinals as both a short- and long-term player but cbssports.com reports that a source close to the negotiations between St. Louis and Chicago says the trade is "not likely."
Back-Up Catcher.
The final consideration may be to find a veteran back-up catcher.  I am not sure about the rest of Cardinal Nation, but I think my heart stopped for a minute a few weeks ago when Yadier Molina got injured.  If Molina has a significant injury the team would have to rely on Tony Cruz to be the everyday catcher.  Tony Cruz has been a serviceable back-up (when Yadi actually takes a day off), but having to go everyday is just not realistic.  It would be nice to have a veteran catcher who could split time with Cruz.  The problem:  you can't really give up a major league roster spot for him, which means you are really looking for a player nearing the end of his career who would be happy playing in triple-A that you could call up if needed.  I am really not sure if there is anyone out there who fits this bill via trade.  If the Cards can make it through the season, maybe they will be able to sign Yadi's other brother Jose, who will be a free agent after this season.  At 38 years old, he is in the twilight of his career and only batting .239 this season, but may be willing to join the Cardinals' system for cheap just for the chance to play on the same organization as his brothers.  From a fan's perspective, you can't deny it would be cool to have the complete set of Molinas in the organization.
The common theme in all parts of this wish list was the phrase "not likely" (or its synonyms) to describe the potential trades.  Cardinals GM John Mozeliak will likely be busy on the phone today and tomorrow, but don't expect the Cardinals to make a big splash.  The little splashes over the last few years have proven successful at assisting the Cardinals down the stretch, so expectations are high with any trade that Mozeliak makes.  I will post updates on trades over the next day so keep checking the site.