Tommy Lee Jones joins Matthew McConaughey on 'Lincoln Lawyer'
So, what scene lets McConaughey take his shirt off? My hope is that Tommy Lee Jones smacks him around a bit, and tells him to cut the shirtless stoner crap. I can't hold too big a grudge against McConaughey, he is a Longhorn fan after all. I'm glad that Tommy Lee Jones is getting more directorial work. I though his debut with The Three Burials of Melquiades Estrada was fantastic.  Although, I'm not sure he needs to put himself in one of the lead roles.
From THR.com
---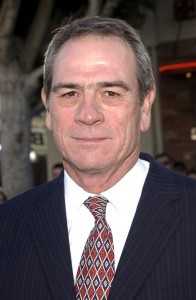 Tommy Lee Jones is in negotiations to direct and co-star in "The Lincoln Lawyer," the Matthew McConaughey vehicle based on the 2005 best-seller by Michael Connelly.
"Lawyer," which is set up at Lakeshore Entertainment, centers on Mickey Haller, a wheeler-dealer Los Angeles lawyer who operates out of the back of his Lincoln. Haller is content with a career defending garden-variety criminals until he lands the case of a lifetime: defending a Beverly Hills playboy accused of murder.
McConaughey is on board to play Haller. It's unclear what role Jones would play; the playboy character, which could be the second male lead, is described in the book as somewhat younger than Jones, though the part could be adjusted to accommodate an older interpretation.
John Romano penned the screenplay for "Lincoln," and Gary Lucchesi, Tom Rosenberg and Scott Steindorff are producing — the first two for Lakeshore and the latter via his Stone Village Pictures banner.
Jones and McConaughey had breakout roles during the mid-'90s playing characters in the justice system: McConaughey as a young defense attorney in "A Time to Kill" and Jones as U.S. Marshal Samuel Gerard in "The Fugitive." Both movies were among the highest earning of each actor's respective career, with Jones also seeing significant coin with the "Men in Black" films, in which he also played a government (albeit alien-fighting) agent.
The CAA-repped Jones has only one helming credit, the Mexico-set crime drama "The Three Burials of Melquiades Estrada," which earned critical plaudits and about $5 million for Sony Pictures Classics in 2005. Jones also played the lead in that pic, winning the best actor award at the Festival de Cannes.
Jones next appears in the ensemble unemployment drama "The Company Men," which marks John Wells' directorial debut. McConaughey next will shoot the border-thriller "Southland."
Connelly turns out frequent best-sellers, but Hollywood has been somewhat reluctant to turn his books into films. "Blood Work," based on his novel about an FBI profiler, became a Clint Eastwood pic in 2002.
Lakeshore was behind MGM's reboot of "Fame" and also produced the male comedy "Hot Tub Time Machine," which MGM is releasing early next year.
---
The premise sounds great, and it sounds a little bit different than the roles McConaughey has played lately. I think he has more range than he lets on, but it looks like he goes too often to the easy paycheck or maybe he just doesn't know how to choose roles. I think that Jones might be trying to go the way of Eastwood, and start moving into the directing court to give himself some meaty roles again.