Matthew Perry coming back to TV on ABC
I know it got a bit contrived at certain points, but I really loved Matthew Perry in Aaron Sorkin's Studio 60 on the Sunset Strip.  Imagine my joy when I hear that Perry's new televison project teams him up with one of the producers of that show, Thomas Schlamme. Add in the fact that he is to debut this show on ABC makes the deal that much sweeter. ABC seems committed to keeping their shows around for a little longer than other networks. It should pair up nicely with their already solid Wednesday night comedies.
From THR.com:
---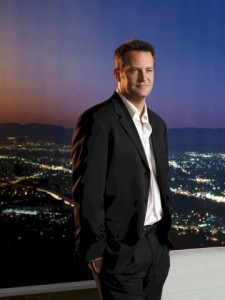 ABC won the Matthew Perry sweepstakes.
After heated bidding, the network has landed the single-camera project starring the "Friends" alum in what could be the richest deal so far this development season.
The pact for the untitled comedy, based on an idea by Perry, is expected to carry series-size penalties both to producing studio Sony TV and Perry, almost guaranteeing a green light.
The project, which Perry will be writing with Sony-based Alex Barnow and Mark Firek, became an instant hot property when it hit the marketplace this week, with ABC and "Friends" home NBC going toe-to-toe in pursuit of the show.
Thomas Schlamme is attached to direct the comedy, starring Perry as a self-involved manager of a second-rate sports arena who begins to reevaluate his life on his 40th birthday.
Perry, Barnow, Firek and Schlamme are executive producing with Sony TV-based Jamie Tarses.
The deal, which is still being finalized, gives ABC a second show fronted by a "Friends" star. Corteney Cox headlines the network's freshman comedy "Cougar Town."
---
I'll be shocked if they don't pair it up with Cox's Cougar Town to play up the Friends connections over at ABC. This must be a slap in the face for rival network NBC which is having loads of trouble with its current schedule. Things are really starting to look up for ABC, let's hope they can keep it up.