Tim Burton's "Frankenweenie" Gets Its First Poster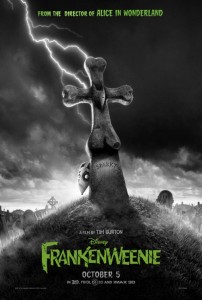 I am a big fan of Tim Burton, but he is far from perfect in my eyes.  I am much more a fan of his earlier work ("Batman", "Beetlejuice", "Edward Scissorhands").  But he has some ground to make up after seriously disappointing me with "Alice in Wonderland".  This might be the year.  Burton has two projects on the horizon:  "Dark Shadows" and "Frankenweenie".  The latter of which has now been given its first poster.
I was first exposed to "Frankenweenie" when I was watching the special features on my "Nightmare Before Christmas" DVD (one of my favorite films of all time).  This of course was the short film that Burton directed way back in 1984.  It was a fun little short.  For those who are not familiar, "Frankenweenie" tells the tale of a young boy who turns to science to revive his recently deceased dog.  Obviously there are more than a couple references to the classic "Frankenstein" story.
When I first heard that Burton was making a feature length film based on his short, I immediately thought "Why?"  It's a fun short but why would he want to go back to do something he had already done.  And how would he get a full story without completely recreating "Frankenstein" just with a dog.  Then I started reading about all the details. Black and white. Stop motion animation. 3D (I have only enjoyed the animated 3D films).  I am now excited.
I think this first poster is great.  But did they really have to put "From the Director of Alice in Wonderland" at the top?  It's his worst film.  Regardless, I am excited.  The film features the voice talents of Winona Ryder, Catherine O'Hara, Martin Short, Martin Landau, and more.  Look for it to hit theaters on October 5, 2012.