WANDERLUST Opens February 24! Enter to Win Passes to the St. Louis Advance Screening!
Enter to win a pass good for two!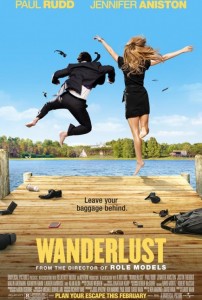 Paul Rudd and Jennifer Aniston star in Wanderlust, a raucous comedy from director David Wain (Role Models) and producer Judd Apatow (Knocked Up) about a couple who leaves the pressures of the big city and joins a freewheeling community where the only rule is to be yourself. George (Rudd) and Linda (Aniston) are an overextended, stressed out Manhattan couple. After George is downsized out of his job, they find themselves with only one option: to move in with George's awful brother in Atlanta. On the way there, George and Linda stumble upon Elysium, an idyllic community populated by colorful characters who embrace a different way of looking at things. Money? It can't buy happiness. Careers? Who needs them? Clothes? Only if you want them. Is Elysium the fresh start George and Linda need? Or will the change of perspective cause more problems than it solves?
Cast: Paul Rudd, Jennifer Aniston, Justin Theroux, Malin Akerman, Kathryn Hahn, Lauren Ambrose, Ken Marino, Joe Lo Truglio, Kerri Kenney-Silver, Alan Alda
Director: David Wain
In order to enter the contest, become a fan of ReviewSTL on Facebook and share ReviewSTL.com with all your friends (click the "share" link on the bottom-left side of the page) – telling why you can't wait to see the movie! Then "like" the post to complete your entry. NO PURCHASE NECESSARY. While supplies last. Passes are available on a first-come, first-served basis.
One pass (each admits two) per person. Theater is overbooked to ensure capacity. Employees of participating sponsors are ineligible.
Screening is Wednesday, February 22 at Wehrenberg Ronnie's 20 Cine (7pm).
Good luck! We hope to see you at the movies!
IN THEATERS FEBRUARY 24