"The Social Network" Top Nominations in Chicago Film Critics Awards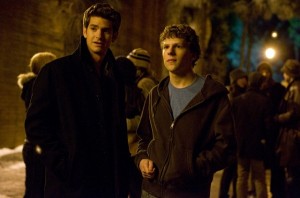 The Social Network is on a bit of a tear. Despite being one of the earliest of the much touted Best Picture favorites this year, the film has been racking up nominations and wins. The latest is a series of eight nominations from the Chicago Film Critics Association. True Grit, The King's Speech, Inception, and Winter's Bone also were heavily nominated with six mentions a piece.
In previous years early contenders had a tendency to get washed out by the glut of new awards material at the end of the year.  That was the case for Up in the Air last year, which was an early favorite, but ended up with very few big awards at the end of the day. However, The Hurt Locker was a summer release that had a good push before the award's season, and was rewarded handsomely for it.  Does The Social Network stand the same chance?
BEST PICTURE
Black Swan
Inception
The King's Speech
The Social Network
Winter's Bone
BEST DIRECTOR
Darren Aronofsky, Black Swan
David Fincher, The Social Network
Debra Granik, Winter's Bone
Tom Hooper, The King's Speech
Christopher Nolan, Inception
BEST ACTOR
Jeff Bridges, True Grit
Jesse Eisenberg, The Social Network
Colin Firth, The King's Speech
James Franco, 127 Hours
Ryan Gosling, Blue Valentine
BEST ACTRESS
Annette Bening, The Kids Are All Right
Jennifer Lawrence, Winter's Bone
Lesley Manville, Another Year
Natalie Portman, Black Swan
Michelle Williams, Blue Valentine
BEST SUPPORTING ACTOR
Christian Bale, The Fighter
Andrew Garfield, The Social Network
John Hawkes, Winter's Bone
Mark Ruffalo, The Kids Are All Right
Geoffrey Rush, The King's Speech
BEST SUPPORTING ACTRESS
Amy Adams, The Fighter
Helena Bonham Carter, The King's Speech
Melissa Leo, The Fighter
Hailee Steinfeld, True Grit
Jacki Weaver, Animal Kingdom
BEST ORIGINAL SCREENPLAY
Black Swan, Mark Heyman, Andres Heinz & John McLaughlin
Four Lions, Jesse Armstrong, Sam Bain & Chris Morris
Inception, Christopher Nolan
The Kids Are All Right, Lisa Cholodenko & Stuart Blumberg
The King's Speech, David Seidler
BEST ADAPTED SCREENPLAY
Rabbit Hole, David Lindsay Abaire
The Social Network, Aaron Sorkin
Toy Story 3, Michael Arndt
True Grit, Joel & Ethan Coen
Winter's Bone, Debra Granik & Anne Rosellini
BEST CINEMATOGRAPHY
Black Swan, Matthew Libatique
Inception, Wally Pfister
Shutter Island, Robert Richardson
The Social Network, Jeff Cronenweth
True Grit, Roger Deakins
BEST ORIGINAL SCORE
Black Swan, Clint Mansell
I Am Love, John Adams
Inception, Hans Zimmer
The Social Network, Trent Reznor & Atticus Ross
True Grit, Carter Burwell
BEST DOCUMENTARY
Exit Through the Gift Shop
Inside Job
Restrepo
The Tillman Story
Waiting for Superman
BEST FOREIGN-LANGUAGE FILM
Biutiful
The Girl with the Dragon Tattoo
I Am Love
Mother
A Prophet
BEST ANIMATED FEATURE
Despicable Me
How to Train Your Dragon
The Illusionist
Tangled
Toy Story 3
MOST PROMISING PERFORMER
Armie Hammer, The Social Network
Katie Jarvis, Fish Tank
Jennifer Lawrence, Winter's Bone
Tahar Rahim, A Prophet
Hailee Steinfeld, True Grit
MOST PROMISING FILMMAKER
Bansky, Exit Through the Gift Shop
Derek Cianfrance, Blue Valentine
David Michod, Animal Kingdom
Aaron Schneider, Get Low
John Wells, The Company Men