Theatre Lab's THE PILLOWMAN Is Dark, Chilling in the Most Beautiful Way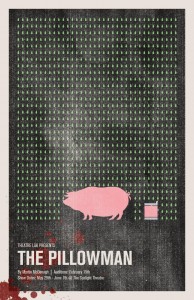 Watching a huge production of a play or musical can be great. But there is something magical that happens when you enter an intimate venue like The Gaslight Theatre in the Central West End. Inside there are only ninety-nine seats, meaning the worst seat in the house is only a few rows away from the stage. You don't have to worry about seeing or hearing the actors, and there is nothing to detract from the art which is being created before your eyes. Which is a good thing, because you wouldn't want to miss a second of this beautifully dark and chilling story.
The Pillowman was written by Martin McDonagh, and debuted in 2003 at the Cottesloe Theatre in London, England. It earned the honor of receiving the 2004 Laurence Olivier Award for Best New Play, two Tonys, and both New York Drama Critics' Circle and Drama Desk Awards. The play revolves around a short story writer named Katurian (Jason C. Klefisch), living in a totalitarian state, who is detained for questioning about recent child murders which bear a striking similarity to his stories. He eventually finds out that his brother Michal (Nick Kelly) is also being held, as their lives are placed in the hands of detectives Tupolski (Eric Dean White) and Ariel (Darian Michael Garey). The question is, are the two brothers being held unfairly, or is their something to the hard-nosed detectives' antics?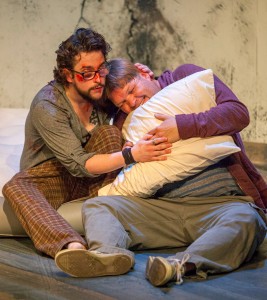 There are only four characters in the entire play, but don't let that scare you away. That is twice as many as appeared in Theatre Lab's first ambitious project, The Sunset Limited. And what incredible actors were chosen for the roles. Jason Klefisch is fantastic as Katurian, who you aren't quite sure what to think of at first. His stories are dark and twisted, yet the audience isn't so quick to pin any guilt on him. The actor gives it his all as he turns in a gut-wrenching performance, running the gamut of emotions. Alongside him is Nick Kelley as his brother Michal for much of the show. Kelley is faced with not only performing some heavy material, but also portraying a character who has special needs. He does an excellent job with the balancing act, making his character's actions never less than believable. He is also tasked with bringing levity to the show, while never coming across derogatorily or insensitively.
Eric Dean White and Darian Michael Garey are both brilliant as Tupolski and Ariel. The two assume the roles of "good cop" and "bad cop," respectively, and knock it out of the park. Kudos to director Ryan Foizey on casting, as the actors could have been more perfect for these two characters.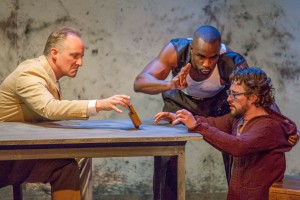 White's Tupolski is great at appearing kind on the surface, until you do or say something he doesn't like. And Garey's Ariel is packed with an energy which is downright frightening for anyone who crosses his path. Yet the character is so diverse, and has so much going on beneath the surface. Both performances are masterful.
Throughout the play are several short stories written by Katurian – most of which are read by Tupolski and Ariel. Yet there are two vital selections that are traditionally acted out by actors on-stage. However Foizey decided to go a different route, enlisting artists Aaron Allen (whose credits include Marvel and DC comics) and Michelle Sauer to come up with illustrations and paintings to create a dark and twisted storybook. Set to music by Luke Viertel, these scenes are absolutely haunting as they tell the disturbing stories – and I mean that in the best way possible. The choice to project these stories fit amazingly with the tone of the play, and felt so natural that you wouldn't believe they weren't intended from inception.
The set design is fantastic, thanks to the talented Rob Lippert. With only a small stage to work with, Lippert crafts a desolate holding location for the main characters – which feels dark, depressing and hopeless. Meanwhile lighting the set is no small task, as James Slover has big shoes to fill following Brian MacDevitt's Tony win for Best Lighting Design of a Play. The result of their work together is a dark and ominous feel that is nothing less than perfection for the show.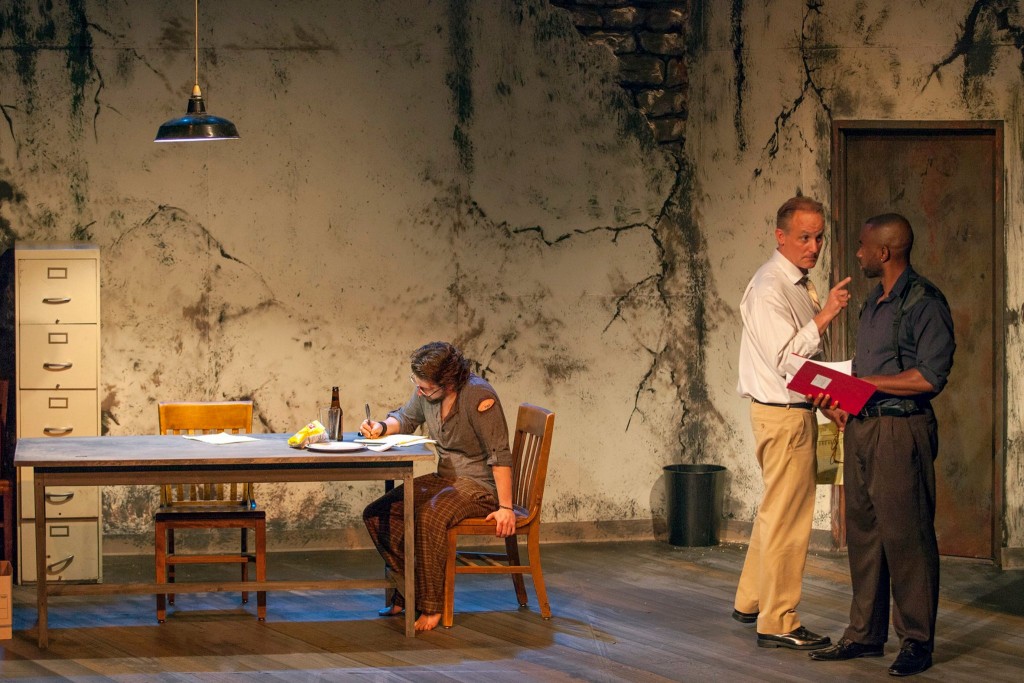 Although The Pillowman is only Theatre Lab's sophomore outing, director Ryan Foizey has crafted a production which is worthy of all the accolades the show has come to earn. With a cast of four incredible actors, the haunting stories, and intriguing writing – this is a show that you absolutely do not want to miss.
The Pillowman plays the Gaslight Theatre in St. Louis May May 29th through June 7th. Tickets available online at brownpapertickets.com.