Theatre Lab Opens With Ambitious First Project, 'The Sunset Limited' by Cormac McCarthy
"Every road ends in death. Or worse. Every friendship. Every love. Torment, betrayal, loss, suffering, pain, age, indignity, and hideous lingering illness. All with a single conclusion."
These are the words of a man known only as White (Zachary Allen Farmer), one half of the characters in "The Sunset Limited." Written by Cormac McCarthy, the Pulitzer Prize-winning author responsible for "The Road" and "No Country for Old Men," his second published play is an hour and thirty minute long conversation between two men who view the world very differently.  White, a professor and atheist who earlier that day attempted to catch the Sunset Limited by jumping in front of it, was saved by a man who appeared out of nowhere. Black (Robert A. Mitchell), his savior, is an ex-convict and Christian who attempts to change White's opinion of the human condition. Tackling a show like this is no small task, and an ambitious choice for Theatre Lab's first production.
Farmer, who wowed audiences most recently as the lead in New Line Theatre's "Bukowsical," is fantastic in his poignant and thought provoking performance as White. The character is one who has given up hope, whose faith in God and humanity has vanished. You can feel the pain he has experienced through Farmer's portrayal, as he meticulously brings McCarthy's words to life in a series of powerful monologues.
The "yin" to Farmers "yang" is Bob Mitchell, a veteran of the St. Louis theatre scene and former artistic director of the NonProphet Theater Company. His masterful performance as Black pulls you in, as he tries to convince White that life is still worth living.
"I look for the words, Professor. I look for the words because I believe that the words is the way to your heart." -Black
Black is a character which forces Mitchell to reach down into a deep reservoir of emotional range.  While often jovial and cracking jokes, he never strays far from his agenda. As much as he wants to convince White to give the world a second chance, he is constantly looking to God for the answer to why he brought this man into his life. Mitchell is forced to flip a switch in an instance when the discussion gets heated, in a smooth and passionate transformation.
The Gaslight Theatre provides an intimate stage, which is used to the fullest extent for the performance. The entire play takes place in Black's modest apartment, with no set changes or breaks. The actors move around constantly, changing seats and interacting with nearby props and furniture in a believable fashion. In the beginning it is obvious that White does not want to be there, staring off into space and flipping cards into a nearby hat. But as the show goes on, the two of them settle in and White goes from answering Black's questions to raising concerns of his own about faith, humanity and the meaning of it all.
McCarthy describes "The Sunset Limited" as a novel in dramatic form. The story is completely dialogue driven, something which the author has brilliantly accomplished. The conversation between the two men, whose labels are an allegory for their vast differences in beliefs, is rich in both language and substance. I have nothing but respect for the actors who chose to take on such a challenge, with nowhere to escape but into plain sight, and who performed their parts with such vigor and strength. If they ever lost it for even a moment, the professionalism of Farmer and Mitchell shined through as they brought it back in – unbeknownst to the enthralled audience.
My hat goes off to Ryan Foizey, founder of Theatre Lab and director of the show, for taking on such a challenging piece for his inaugural production. Staging a play like this is no small feat to accomplish, with so much of its success depending on only a few key components. The casting has to be perfect to engage and keep the audience with them, a challenge that was passed with flying colors. The actors didn't lose them for a minute, as all eyes and ears were focused on the stage from start to finish. Foizey's direction brings the text to life, ensuring that the long conversation turned into a meaningful and thought provoking experience.
Theatre Lab's production of "The Sunset Limited" will take place at the Gaslight Theatre on Sat. August 10 at 8pm, Sun. August 11 at 2:30 pm, and Thurs. – Sat. August 15-17 at 8pm. Tickets available at brownpapertickets.com.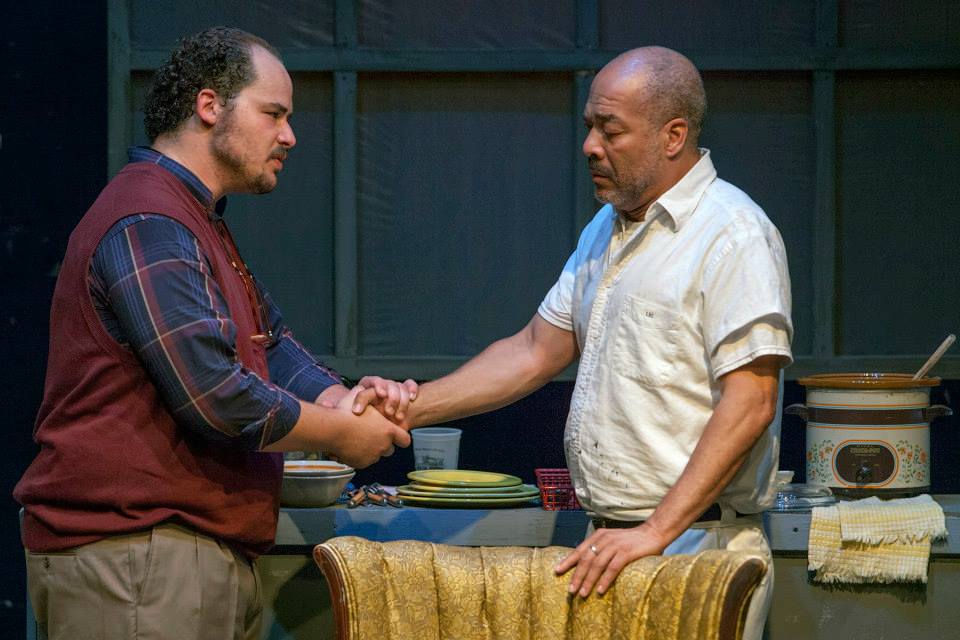 Photos: John Lamb