Review: Regional Premiere of BUKOWSICAL by New Line Theatre (May 30 – June 22)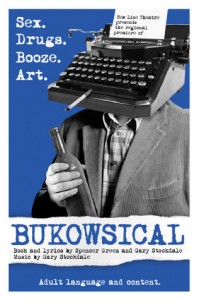 For those unfamiliar with the man without whom we would not have a Bukowsical, Charles Bukowski was a writer whose work focused on the misery of everyday life, women, and his muse – alcohol. And what kind of a musical would we have if it were not as honest as a man who once wrote, "Jesus Christ, some people are so dumb you can hear them splashing around in their dumbness?" Bukowsical is an adults only, rated R, not safe for work, M for mature type of show that never holds back. You know you are in for one hell of a show when a bright and colorful musical number starts off, "What's the feeling you get, when you're down on your luck, and you're too drunk to f–k? BUKOWSICAL!"
Beside from it's brutally honest and uncensored mentality, what makes the show so great is how seriously it is taken while being outrageous and laugh out loud funny. What I mean is that all the elements of a great American musical are there. The book and lyrics, written by Spencer Green and Gary Stockdale, are clever and quirky – always keeping the audience anticipating the next quotable line while perfectly carrying the story along. The music by Stockdale, and wonderfully performed by the New Line band, is as catchy and memorable as any Broadway show. Although I didn't fully realize it while I was listening to it for the first time, as there was a lot to take in, the songs in the show are simply fantastic. As I listened back to the music of Bukowsical after the show, one after another was getting stuck in my head. I found myself tapping my toes long after the curtains were closed, and the recordings were turned off.
New Line Theatre veteran Zachary Allen Farmer stars in the show as Charles Bukowski. I have seen Zak in several New Line productions now, and I'm to the point where hearing his name mentioned in the cast really get's me excited. His presence on stage is always commanding, which is no exception as the young actor becomes Bukowski in his latest role. As I go back and compare pictures of the writer to Farmer's embodiment, everything from his facial expressions to his demeanor are spot on. Farmer also has a great voice, which really comes in handy as he belts out his parts in "The Derelict Trail" and "Love Is a Dog From Hell."
Joel Hackbarth is the narrator of the story, and also plays Bukowski's father (along with various characters throughout the show as all the New Liner's do). For an inexperienced actor, or non-thespian such as myself, I can't imagine singing the lines of this show with a straight face – the same as you would any happy little show tune. But Hackbarth pulls it off without an inclining of awkwardness or hesitation, and does a marvelous job. The opening number is hilarious, with all the New Liner's backing him up. Everyone is wearing such bright and colorful outfits, while singing more than colorful lyrics to meticulously choreographed dances. It is something the words just can't do justice.
The casts of New Line's productions are always so good, and it is no surprise that
Bukowsical's
is top notch. Kimi Short, who starred in
Next to Normal
as the matriarch of the Goodman family, lights up the stage as Bukowski's drunken love interest. Short is a tremendously talented singer, and has no problem pulling off comedy as well. Watching Farmer and Short look into one another's eyes and sing their characters' hilarious love ballad "Chaser of My Heart" is priceless. And she really get's to show her range in "Remember Me." Ryan Foizey is another actor who I had the pleasure of watching in
Next to Normal
. Foizey puts so much energy into his performance, and is so animated, that it is hard not to draw your attention straight into the performing vortex he creates. Whether he is playing a hobo on "The Derelict Trail," or a TV spiritual leader in "Slippery Slope," his characters are always fun to watch. Although he is relatively fresh to New Line, he has more than proved himself in his first few performances and is one to watch. Marcy Wiegert's performance as a bottle of beer in "Take Me" is radiant, hilarious and fun to watch. Chrissy Young, Nick Kelly and Chris Strawhun all help to make the show great.
It should go without saying that with a tagline like "Sex. Drugs. Booze. Art.," Bukowsical is not for everyone. But if you are a fan of shows like The Book of Mormon, or Avenue Q, there shouldn't be anything you can't handle. New Line Theatre does what it does best, putting on a raw and uncensored show that never pulls any of its punches. With a fantastic cast, non-stop laughs, and many memorable songs – "you can be Bukowsical too." And you should.
BUKOWSICAL runs May 30 – June 22, 2013, Thurs. through Sat. evenings, all at 8:00 p.m., at the Washington University South Campus Theatre (formerly CBC High School), 6501 Clayton Road, just east of Big Bend. For more information, visit newlinetheatre.com.