New Line Theatre's 'Next to Normal' is Nothing Less than Extraordinary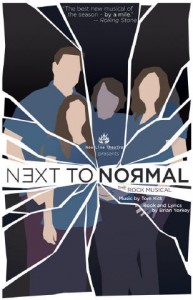 After seeing Next to Normal for the first time in 2011, there is no questions as to why it won 3 Tony Awards. Two of the three were for best original score and best orchestration, thanks in part to Mr. Tom Kitt. This raw and powerful rock musical is packed with music that completely takes over the audience, making it hard not to tap your foot along with each number.  Kitt is also responsible for High Fidelity, a show which New Line revived from the dead on Broadway not only once, but for a second time in 2012 to rave reviews. This production of Next to Normal is no exception to their track record, full of moving performances and fantastic vocals.
What is normal? It is a question that is asked and answered subliminally throughout the show. As messed up as things may seem in your personal life, they may actually be closer to normal than you will ever know.  Diana (Kimi Short) is the matriarch of what seems to be the "perfect loving family."  Her household is comprised of her husband Dan (Jeffrey M. Wright), daughter Natalie (Mary Beth Black) and son Gabe (Ryan Foizey). In the opening number 'Just Another Day' she sings, "so my son's a little shit, my husband's boring. And my daughter, though a genius, is a freak." The beauty of the show comes from its truth, although often brutally honest, but nonetheless the truth. Sure, their family has problems. But who doesn't? Yet something it also focuses on is mental illness, a subject that many have not been exposed to. Diana is on a strong regimen of drugs to suppress her bipolar disorder, something that is not easy on her family. As things get worse for Diana, her family finds it harder to coexist. The show takes her to multiple doctors, who prescribe her various treatments, while life continues to go on for her family around her.
Short's performance takes her on an emotional journey, and the audience is right there with her along for the ride. It is tough enough acting in a musical, but playing a character with bipolar disorder is almost like playing multiple characters at the same time. The show revolves around her and she does a fantastic job, both vocally as well as taking us on the ups and downs that her character is going through. Her character Diana has been through a lot that has made her who she is,  and it is hard not to get teary at times when you're at the receiving end of her performance.
The cast of the show is small in number compared to the action taking place on-stage. There are only six actors in the entire show, but the way it is written it is hard to believe that is the case. There is always so much going on, never a lull during the entire production. Even though I knew there was an intermission,  I started to second-guess myself during the first act. The show, along with the actors' brilliant performances, sucks you in and doesn't let go until the end.
Joseph McAnulty plays Henry, Natalie's love interest who she meets while practicing for her big piano recital at school. He channels his inner-Spicoli in a role that would seem like your typical stoner, except for the fact that he sooner or later starts to pull at your heartstrings.  His character is real, honest, and genuine. Upon first impression you aren't sure whether or not you can take his character seriously, but as his relationship with Natlie gets deeper you find out who he really is. And his laid back, stoner persona quickly becomes serious and touching. The two teenagers seem to switch places as the relationship goes on, and McAnulty gives a great performance as his character's concern grows.
All of the actors in the show have great voices, and give it their all throughout the performance. Jeffrey M. Wright, who played the lead role in High Fidelity, does a fantastic job as the father who tries to keep everything together. As the man of the house, it is his responsibility to take care of his family – no matter what the cost is to his own happiness. You can feel the pain his character goes through, knowing how much he cares about Diana. And he isn't alone, as Black's character Natalie struggles with trying to do what is best for her family, often without thinking of herself.  Zachary Allen Farmer, who plays both of Diana's doctors, channels his inner rock-star as he acts out Diana's delusions of him. He has a great knack for comedy, already proven in High Fidelity, but has no problem getting serious. The way he spouts off the medical terminology required to be memorized for the show is repeatedly impressive.
Ryan Foizey shows great range in the role of Gabe.  His character is very unique to the story, and without giving away why, I just have to say that he does a fantastic job. He shows up everywhere, dealing with a myriad of situations, and has an especially challenging role in the show.  Not only does he belt out an impressive array of vocals from high to low, but his body language and facial expressions are worth a million words.
One of my favorite parts of going to shows at New Line's theatre is how personal and intimate the performances are. There isn't a bad seat in the house, and no matter where you sit – the actors are always "right there." The crew did a fantastic job with the set, staggering different levels to represent various locations throughout the show. When I saw the national tour, the stage was huge – with several squares stacked one upon another. This version does just as good of a job, and there is never any confusion as we go from one place to another.
For those who enjoy live theater, but have never seen the show, I can't speak highly enough about it. The story is well written, the songs are fantastic, and the show is very honest and easy to relate to. New Line's production looks and sounds fantastic, and continues to impress upon me the power of local theater. If you have already seen the show, this production will remind you why you loved it so much in the first place. And most importantly, it reminds us that in our lives "something next to normal" is okay.
—
New Line Theatre's production of Next to Normal run Feb. 28 – March 23 (Thursday through Saturday at 8pm). For more information, and to purchase tickets, visit newlinetheatre.com.