Review: New Line Theatre's 'High Fidelity' Shows Heart, Soul and Rock 'n' Roll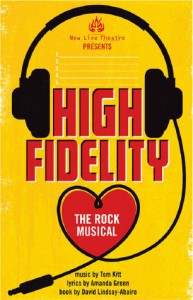 The 2000 film High Fidelity, based on the novel by Nick Hornby, is my favorite John Cusack film of all time. Hands down. So naturally when I heard that the story was adapted into a musical that only had 14 performances on Broadway, I was a little let down. But in 2008 New Line Theatre and director Scott Miller came to its rescue, and resurrected the brilliant show from the dead. After four years, and rave reviews from critics, High Fidelity has returned to St. Louis.
If you have seen the film, like I have so many times, the story is quite familiar.  Rob (Jeffrey M. Wright) is the owner of "The Last Real Record Store on Earth" – Championship Vinyl. His girlfriend Liz (Kimi Short) is leaving him, but he tries to soften the blow by leaving her off his "Desert Island All-Time Top 5 Breakups" list.  Rob takes refuge at his store with only his records, customers who never buy anything, and two loyal employees to comfort him – Dick (Mike Dowdy) and Barry (Zachary Allen Farmer).  Rob's life revolves around music, as he organizes his record collection not alphabetically, or chronologically – but autobiographically. Through music and song, he tells the stories of his breakups with the help of The Exes – Allison (Terrie Carolan), Penny (Taylor Pietz), Charlie (Chrissy Young), Sarah (Sarah Porter) and Jackie (Talichia Noah).
It's hard to believe that this show didn't do better on Broadway. The story is clever and original, and the music and lyrics are phenomenal.  Tom Kitt is responsible for the music, who later did the same for Next to Normal – which I cannot say enough good things about. And Amanda Green, daughter of lyricist Adolph Green (Singin' in the Rain, Peter Pan), wrote the lyrics and would go on to work with Lin-Manuel Miranda on the insanely fun Bring It On: The Musical which just headed to Broadway. The show has nothing but the perfect ingredients for successful rock musical, but what it needs is the right chef. Enter Scott Miller and New Line Theatre.
There are so many good songs in the show. I could tell instantly that the music would make my playlist after the show.  Channeling inspiration from famous rockers like Bruce Springsteen, Neil Young, The Talking Heads, Billy Joel and many more – Kitt does a tremendous job.  And the lyrics are witty and clever, staying true to what you would expect from the source material. "Ready to Settle," "9% Chance of Your Love," and "I Slept with Someone" are laugh-out-loud funny, and prove this show has the makings of a great musical comedy.
The New Line Band does a fantastic job with the music. Comprised of conductor Justin Smolik on piano, D. Mike Bauer on lead guitar, Aaron Doerr on Rhythm, Dave Hall on Bass, Clancy Newellon Percussion and Jeffrey VanDiver on keyboard – their sound comes together masterfully. They capture the pure essence of rock, which is so important for a show based on the music of the era.
What stands out most about this production of High Fidelity is the passion that went into it. You can tell that these actors are singing and dancing their hearts out; you can feel the raw energy and emotion that they radiate with their performances.  I listened to the original cast recording of the show, and I can honestly say that some of the recorded numbers couldn't hold a candle to the New Line versions.
Jeffrey Wright was extraordinary as Rob. The entire show revolves around his character, and therefore he could make or break the show.  And this reviewer couldn't have been happier with the casting choice.  Wright puts his heart and soul into the show, and you can tell he is passionate about what he does.  He is charismatic, extremely likable and has a great voice.
The show wouldn't be near as fun without Rob's two record store sidekicks, that's for sure. Mike Dowdy is great as the shy, hopeless romantic Dick  – who doesn't have a clue about what the first thing to impress a girl is.  And  Zachary Allen Farmer channels his inner Jack Black for an uncanny resemblance to the energetic actor and musician. Farmer sounds exactly like Black when he speaks and sings, and has his mannerisms down to a tee. It was mind-blowing how good his impersonation was.  All of this, and these two actors probably had the best voices of anyone in the cast.  Dowdy and Farmers both have jaw-dropping range, and were both a joy to watch and listen to throughout the performance.
Being a huge fan, one of the things I loved about the show is how close it is to the film. Of course this version of the story is told through song, where the movie was not. Rest assured, all of the clever and quirky things about the Cusack version are there in the musical. If you have seen it, you know the story and you know the characters. But one thing I am certain about is that you will love them even more after seeing this version.
I thought the set for the show was excellent. New Line makes excellent use of the stage at Washington University's South Campus Theatre, which is primarily transformed into Championship Vinyl.  Records and tapes line the walls, and vinyl is everywhere. It really makes you feel like you are in a record store.  The cast makes great use of their surroundings, as record racks are twirled around during choreographed dance numbers. And since Rob's house resembles the store pretty closely, a couch later you are transported right into his living room.
High Fidelity is a fantastic show, filled with pure rock energy and a myriad of memorable songs. It would truly have been a tragedy if it wasn't revived after being left for dead on Broadway. Instead of just taking the movie and slapping some songs into it, the cast and creatives really make it their own. With great performances and powerful rock music that is fondly familiar, it is a must see show that you don't want to miss.
---
HIGH FIDELITY is playing Washington University's South Campus Theatre in St. Louis from May 31 to June 23, 2012! Performances are Thursday through Saturday at 8pm. Purchase tickets at Metrotix, or visit the New Line Theatre website for more details.