Snow White Makes More Than Expected As It Takes The Top Spot At The Box Office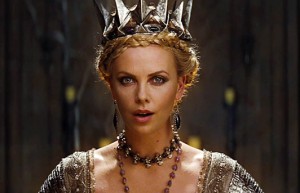 1.) Snow White and the Huntsman…..$56,255,00
2.) MIB 3……$29,300,000
3.) The Avengers…..$20,273,000
4.) Battleship…..$4,810,000
5.) The Dictator…..$4,725,000
I think everyone would have predicted "Snow White and the Huntsman" to take the top spot this weekend, but it made quite a bit more than was anticipated.  The studio was predicting around $40 million opening weekend.  Universal still has a ways to go to turn a profit considering the film cost $170 million to make, but this opening weekend certainly helps the studio heads to briefly forget about the abysmal opening that was "Battleship".
The real question for me is just what led to this big opening for the film?  It has big name stars in Chris Hemsworth, Charlize Theron, and Kristen Stewart, but I think the "Twilight" crowd is going to rush out to see anything with Pattinson in it more so than Stewart and "The Avengers" crowd isn't going to be rushing out to see Stewart due to the "Twilight" reputation.  Maybe it was just good advertising.  The film's sets, effects, and costumes are beautiful.  Did the visual appeal make people interested enough to come see>  Are people that interested in re-imaginings of fairy tales?  Based on television ratings I would say yes with both "Grimm" and "Once Upon A Time" doing well in their time slots.  The film didn't exactly receive glowing reviews, currently sitting at 46% among critics on rottentomatoes.com.  So what was it that sent everyone to check out the fairy tale.
Looking ahead to next weekend, I am betting on "Madagascar 3: Europe's Most Wanted" to take the top spot.  Summer, animated, family fun is always a sure bet.  But how will "Prometheus" stack up against "Snow White" and "The Avengers".  I would like to think "Prometheus" will land second, but who knows how the mass audience will react to it.