Blu-Ray Releases of the Week – 'John Carter,' 'Journey 2: The Mysterious Island,' 'Safe House' and More
Lots of movies hitting store shelves today, and in my opinion, lots of movies that would be good rentals rather than a good addition to your at home collection.  You may disagree.  I know a couple of people headed out to pick up the first sci-fi epic on the list today, and others may just be huge Ryan Reynolds fans.  Whatever floats your boat.
I want to go on record and say that this film is no where near as bad as critics make it out to be.  To the mass audience, this may look like a science fiction adventure that steals heavily from a lot of films that have already been made.  This is because so many films have borrowed ideas from this series of novels written in 1917.  I really feel bad for Taylor Kitsch. Between this and "Battleship", his ability to be a leading man may be dwindling in studio's eyes.  Check out Kevin's review for the film here.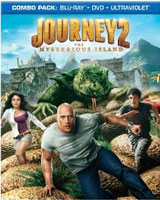 Journey 2: The Mysterious Island
I did not see the first one, but I think this would be a massive upgrade considering I would much rather watch Dwayne Johnson than Brandan Fraser.  The Rock has got charisma.  Unfortunately the film does have Vanessa Hudgens and Josh Hutcherson.  After watching the MTV Movie Awards the other night, I think Hutcherson is kind of a douche.  Based on Kevin's review here, it looks like this would be a good pick for a family movie night.
I really wanted to like "Safe House".  I tried my hardest.  In the end, I just didn't care.  I was bored.  Which is surprising considering the film is filled with action.  It was just a been there done that kind of film.  Ryan Reynolds needs a hit bad.  I guess "The Proposal" was his last big hit.  That was three years ago.  He did have "Buried" in between now and then which was great, but far from a blockbuster.  Kevin liked the film more than me.  Here is what he had to say.
I really wanted to see this in theaters, but I was living in a small town that didn't actually have a theater.  When reviews started coming in, I started reading everything that I thought the film would be.  Cool action.  Terrible story.  I can live with that.  Worth a rental at least.  Steve reviews the film here.
I didn't even know this came to theaters.  I remember seeing the trailer.  Then about an hour later, I forgot I saw the trailer.  Now, 5 years later it hits on Blu-Ray and DVD.  Okay, obviously it wasn't 5 years.  Did anyone see this?  Matt saw it.  This is what he has to say.  But honestly, who did see this film?  I want to know.