NATIONAL LAMPOON'S VACATION On the Big Screen at B&B Wildwood 10 – One Night Only!
Enter for your chance to receive a pass for two to the one night engagement!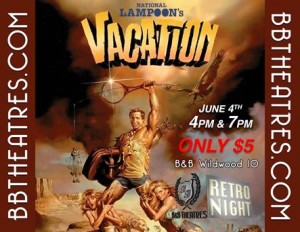 The first film in the Vacation comedy franchise stars Chevy Chase as Clark Griswold, an ad exec who becomes consumed with taking his family cross-country to Wally World, a California amusement park. Less a vacation than a descent into a peculiarly American kind of hell, the Griswolds suffer through an endless series of catastrophes, culminating in a run-in with the law.
Cast: Chevy Chase, Beverly D'Angelo, Imogene Coca
Director: Harold Ramis
In order to enter the contest, e-mail us and tell us why you love the movie!
No purchase necessary. Void where restricted or prohibited by law. At the screening seating is not guaranteed and is available on a first-come, first-served basis. Refer to screening pass for further restrictions. Screening pass winners will be drawn at random and notified via email. Limit one (admit-two) pass per person. Must be age 13 or over to enter.
One Night Only! Thursday, June 4 at 4pm or 7pm
NATIONAL LAMPOON'S VACATION is back on the big screen for ONE NIGHT ONLY, at the B&B Wildwood 10 on June 4 (4pm and 7pm)