Justin Lawrence Returns Home With Bellator June 19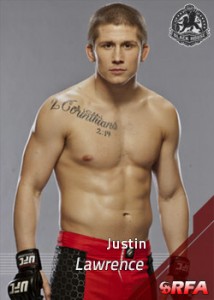 The American Kid will return home to the St. Louis area.
Pacific's Justin Lawrence will be returning to St. Louis Friday, June 19 as part of the Bellator 138 card that will take place at the Scottrade Center at 8 p.m.
Lawrence's fight against Sean Wilson will be the main fight on the preliminary card.
Lawrence has not fought in the area in nearly five years.
"It's been since 2010 when I fought under the Strikeforce promotion when I was 20 years old," Lawrence said. "It's a good feeling to come back home and give a lot of my fans a great fight, and have the opportunity to go out there and showcase my skills. Doing what I love in front of my hometown is awesome. I can't wait."
Lawrence's family will also be in attendance.
"They've been really supportive," he said. "They've been with me since I was little. They've watched me grow up in this sport. A lot of them will definitely be there."
Lawrence said the sport of Mixed Martial Arts was in his blood. Lawrence's step-father, Benny Voyles, owns 21st Century Martial Arts in Pacific. Voyles was a professional fighter for eight years and also has coached and managed fighters.
"I was kind of born and raised into a gym," he said. "My uncle, Scotty Fiedler, fought in UFC 10. So, I kind of always knew about the UFC and mixed martial arts."
A wrestler since the third grade, Lawrence said the transition to MMA was an easy one for him.
"That's what I wanted to do," he said. "At the end of the day I was a wrestler at heart, but also a striker, so why not be able to do all those disciplines in a fight?"
Because Lawrence was well-rounded as a fighter with great wrestling and striking skills, the move to MMA seemed like a natural one for him.
"I kind of jumped into MMA because my striking stood out so much more than just in a kickboxing match or a boxing match," he said. "That gave me so many weapons. I felt like I was so far ahead of the curve."
While Lawrence said he would rather stand in a fight then take it to the ground, he admits that the sport has changed a lot, so it's important to be skilled in both.
"The sport's evolving so much and fighters are getting so good nowadays, that even though I'm a boxer and kickboxer at heart, throwing a take down in there may also disrupt your opponents rhythm," Lawrence said. "Your opponent can't only worry about your hands or your kicks, but now your take downs. That's three weapons they will have to be thinking about at all times. You got to do what you got to do to win. You have to keep your opponent thinking. When they aren't thinking, that's when they are beating on you."
While the sport of MMA is one of, if not the most physically demanding sports, mental toughness plays a big role.
"It's everything," Lawrence said. "Tell me one person who likes getting punched in the face. At the end of the day, it's all mental. You can't be weak. Everyone's in good shape and everyone knows how to fight. It's all mental and that's why it's so fun. It's a battle."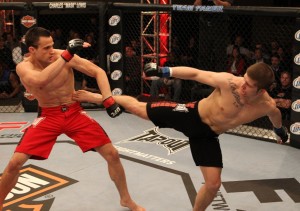 Lawrence's professional debut came Dec. 4, 2010 in St. Louis as part of the Strikeforce card against Max Martyniouk. Lawrence won by unanimous decision.
In Feb. 2012, Lawrence was selected to be a member of UFC's The Ultimate Fighter.
While on the show, Lawrence defeated James Krause to move into the Ultimate Fighter house, becoming an official cast member.
After defeating Cristiano Marcello, Lawrence advanced the quarterfinals of the show, where he would lose in a sudden-death round to Michael Chiesa.
Despite the loss, Lawrence was signed by UFC President Dana White.
At the Ultimate Fighter 15 Finale June 1, 2012, Lawrence made his UFC debut by knocking out John Cofer with a third round head kick which earned him Fight of the Night honors and Knockout of the Night.
Lawrence would lose his next two fights and was released from the company.
His release from UFC was a lesson in growing up for Lawrence.
"I was super-young," he said. "I got a Fight of the Night and Knockout of the Night and I thought I made it. At the end of the day, that stuff goes quicker than what you think. I was 21 and didn't realize that. I'm 25 now and have had to battle back to where I'm at today. It's given me more confidence and motivation to go out there and train hard to win."
Upon his release, Lawrence (7-2) signed with Resurrection Fighting Alliance (RFA).
The Pacific native has not lost a fight since his UFC release and signed with Bellator in April.
"I've been to the highest level," Lawrence said. "I've been five rounds and I've defended a title. You can't buy experience. I've wrestled at high levels and always competed at high levels. This is what I love to do."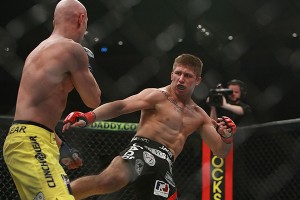 One thing that Lawrence credits with helping his resurgence was a move to San Diego to train out of Alliance Gym.
"Not that there aren't great fighters in St. Louis, but I was spending more time in my car traveling from my dad's gym to a gym in St. Charles," he said. Out here, I have everything under one roof. I'm training with killers everyday. You become an animal or you go home."
Lawrence's opponent on June 19 will be Sean Wilson (34-25).
"I feel like my hands and my striking are a lot of better than a lot of guys in my division," he said. "He's really heavy-handed, which will make for an exciting fight with a lot of fireworks. I just feel like I'm younger. I'm more well-rounded and that's going to be huge. I'm just not a boxer. He's never really fought a fighter like me."
Tickets for Bellator 138 start at $30 and can be purchased at Ticketmaster.com.
While the show will go live on Spike TV at 8 p.m., June 19, fans will be able to stream the preliminary fights, including Lawrence's, on Spike.com.