"The Hobbit" Adds Actress Saoirse Ronan To The Cast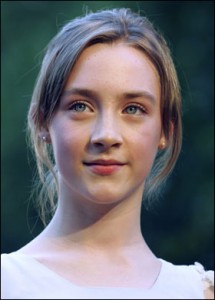 Even though I have no idea how to pronounce Saoirse Ronan's first name, I still think she is an extremely talented kid.  Atonement is one of my favorite films, and she is a big reason for that.  I also think that critics were pretty hard on The Lovely Bones which I personally enjoyed a lot.  Now it appears that Ronan will be joining her Lovely Bones director Peter Jackson for The Hobbit. 
The actress will have a busy 2011.  She currently co-stars in Peter Weir's The Way Back.  She will be out promoting her revenge film Hanna and her other assassin film Violet and Daisy.  Hanna opens April 8 while the latter does not have a release date yet.  Now she can add filming for The Hobbit to the list.
Unfortunately it is unclear when The Hobbit will begin filming.  News just hit that director Pater Jackson us undergoing stomach surgery.  Production on the film will begin once he recovers.  Check back here for more details on The Hobbit as we hear them.
Do you think Peter Jackson will make magic happen again with The Hobbit or will it fail in comparison to the Lord of the Rings trilogy?