"Abraham Lincoln: Vampire Hunter" Gets Its Abraham Lincoln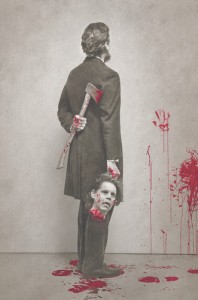 I am just going to guess and say that more people have heard of Pride and Prejudice and Zombies than have heard of Abraham Lincoln: Vampire Hunter.  This is mainly due to the fact that I have seen calenders for the former of the two.  Both are film adaptations of novels by Seth Grahame-Smith, but Vampire Hunter has a director and now a start while the other has seen Natalie Portman and David O. Russell leave the production.
Timur Bekmanbetov is director the film who is best known to American audiences as the director of Wanted.  Many names have been tossed about on who will play America's 16th president including Eric Bana, Timothy Olyphant, and Adrien Brody.  Variety is reporting that Benjamin Walker will now be playing the title character.  Walker has not appeared in a whole lot of films, most notably Flags of Our Fathers and Kinsey.  Will this be his big break?
Abraham Lincoln: Vampire Hunter is scheduled to hit theaters June 22, 2012.  The synopsis is below.
When Abraham Lincoln was nine years old, his mother died from an ailment called the "milk sickness." Only later did he learn that his mother's deadly affliction was actually the work of a local vampire, seeking to collect a debt owed by Lincoln's father. When Abe learned the truth, he vowed revenge and kept one passion hidden throughout his life: the brutal elimination of all vampires. His valiant, bloody fight against the undead was all but lost to history, until Grahame-Smith stumbled upon the secret journal of Abraham Lincoln.

Using the journal as his guide, Seth reconstructs Lincoln's life story and uncovers the role vampires played in the birth, growth, and near-death of our nation. You don't know Abe. Honest.