"The Company Men" HD Trailer Starring Ben Affleck, Tommy Lee Jones, Kevin Costner, Emily Mortimer, and Chris Cooper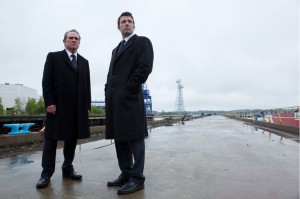 Looks like Ben Affleck has his career back in order. There are now two projects of his that I am highly looking forward to, the first of which is his next directorial feature, The Town, (watch the trailer here), and now is The Company Men. Affleck is surrounded by strong supporting actors in this film, and I think his hardest obstacle will be rising his performance above the bevy of Academy Award winners he is sharing the screen with.
The Company Men seems like the other side of the story that was started with last year's Up in the Air. Let's face it the country has fallen on hard time, I know it and you know it. That is why we find it so easy to relate to actors in roles like these. They may not understand the plight of many Americans, but it is still reassuring to see it represented on screen in what is hopefully a non-condescending way.
Note: How awful is Ben Affleck's golf swing?

Synopsis:
Bobby Walker is living the American dream: great job, beautiful family, shiny Porsche in the garage. When corporate downsizing leaves him and co-workers Phil Woodward and Gene McClary jobless, the three men are forced to re-define their lives as men, husbands, and fathers. Bobby soon finds himself enduring enthusiastic life coaching, a job building houses for his brother-in-law which does not play to his executive skill set, and perhaps the realization that there is more to life than chasing the bigger, better deal.
Starring: Ben Affleck, Kevin Costner, Tommy Lee Jones, Chris Cooper, Craig T. Nelson
Directed by: John Wells
Produced by: Paula Weinstein, John Wells, Claire Rudnick Polstein
Genres: Comedy and Drama
Release Date: October 22nd, 2010 (wide)
[hdplay id=63 width=595 height=375]