'The Campaign' Fulfills its (Few) Promises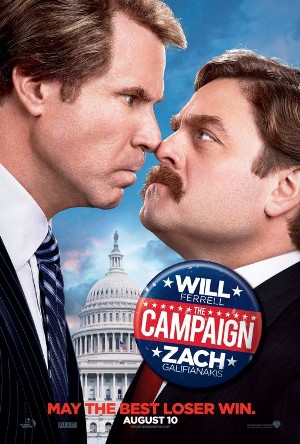 As a man who majored in political science, I have to say: I hate political ads.
No, the two aren't correlated. I just wanted to say I was a polisci major and that I hate political ads. I think even Democrats, Republicans, and people who don't care about politics can agree on this one. Political ads suck.
It's from this mutual hatred of political propaganda that comes The Campaign, a completely over-the-top, irreverent look at the race for a Congressional seat in North Carolina. Directed by Jay Roach (Meet the Parents, Austin Powers), there's not a whole lot of substance, but what is there is presented in a funny and occasionally poignant manner.
Cam Brady (Will Ferrell) has held the seat for four consecutive terms and he and his campaign manager (Jason Sudeikis) are looking to win the next election unopposed. Anxious to unseat him and replace him with a puppet delegate, Glen and Wade Motch (John Lithgow and Dan Akroyd) pick Marty Huggins (Zach Galifianakis), a naive but lovable local resident. At first, Huggins is apprehensive, but after seeing the approval his father (Brian Cox) gives, he reluctantly agrees. With the assistance of his mysterious but effective campaign manager, Tim Wattley (Dylan McDermott), Marty heads out on the campaign trail.
Slowly but surely, Marty begins to gain grounds in the polls but loses the approval of his family, especially his wife Mitzi (Sarah Baker), who warns Marty that he's sacrificing his values for a victory. Tensions begin to mount, and as the election looms closer, both candidates begin breaking out the dreaded negative attack ads, some of which are miles beyond anything we'd normally see on television.
I kinda figured going into the movie that it'd be a typical Will Ferrell film: physical humor, awkwardness, and a healthy dose of cringeworthy jokes; on all these facets, the film delivers healthy doses. That's not to say that's ALL the film has, though.
The best part of the film is the chemistry Ferrell and Galifianakis have. Zach has nailed down the role of the dimwitted but lovable guy (The Hangover, The Hangover II, Due Date), and he does a solid job here. His rapport and tumultuous relationship with Ferrell is excellent, and they play off each other very well. Ferrell is, well, Will Ferrell, and he says and does pretty much what you'd expect from him. If you're a fan, that's awesome; if not, then you're prolly not gonna like it.
The supporting cast is pretty solid overall. Sudeikis does an excellent job as the even-tempered and loyal campaign manager, in stark contrast to McDermott's evil, brooding character. Baker is believable as the supporting wife who ultimately grows tired of playing second fiddle.
Ultimately, The Campaign accomplished what most expected of it. At times, it's a pretty funny satire of the political process, but there are a lot of times when the humor felt forced and overplayed, and the ending pretty much played out as I thought it would. Of my friends who went with me, two thought it was alright, while one thought it was better than she'd expected. If you're looking for a light-hearted comedy, it'll provide entertainment for 85 minutes; just don't expect any originality.
The Campaign gets a C+.