Comic News: Marvel NOW!
A few weeks ago, I posted some interesting news coming from Marvel –  The House of Ideas was canceling a lot of major titles only to revamp them in the coming months.  Well, the Marvel NOW! movement has begun.  Marvel has announced a bunch of relaunched titles with all new creative teams.  The most noteworthy of these changes is that Brian Michael Bendis will be taking over the X-Men titles.  Here is a breakdown of the new titles and teams: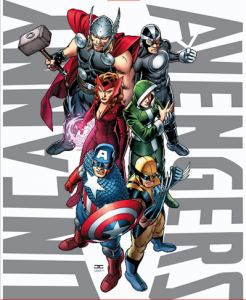 The Uncanny Avengers
Written by Rick Remender
Art by John Cassady
Coming out of Avengers vs X-Men, this looks to be a team of mutants and Avengers led by Captain America & Wolverine.  I love the creative team.  Rick Remender (FrankenCastle, Fear Agent, and Uncanny X-Force ) is one of Marvel's top guys.  Pair him with John Cassady (Planetary & Astonishing X-Men), and you've got one hell of team on what could be a truly incredible book.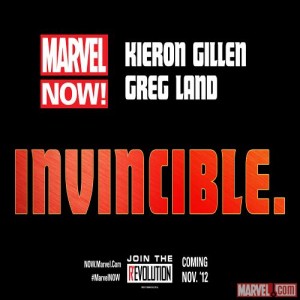 Invincible Iron Man
Written by Kieron Gillen
Art by Greg Land
With the relaunch of Iron Man, this ends Matt Fraction and Salvador Larroca's 4 year run.  I dig Kieron Gillen's work.  He had great runs on Uncanny X-Men and Journey Into Mystery.  I'm curious to see his take on Tony Stark.  That being said, I hate Greg Land's art.  It's really bad.  It's too photo realistic for my liking.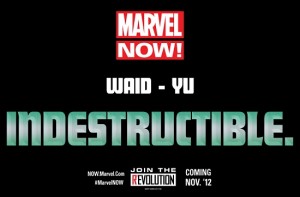 Incredible (or Indestructible) Hulk
Written by Mark Waid
Art by Leinil Francis Yu
This one is really exciting.  I have no clue what take Mark Waid (Daredevil) will have on the character, but I don't care.  Waid is one of the best writers in comics.  Hands down.  Leinil Francis Yu on art could be some of the best Hulk art you will ever see.  My only concern is Yu keeping a monthly schedule.  He's been know to be late on other books.  If you want to see Yu's version of Hulk, check out Ultimate Wolverine vs Ultimate Hulk.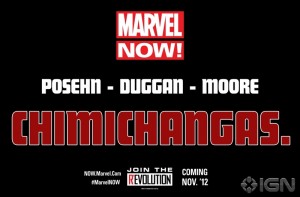 Deadpool
Written by Brian Posehn and Gerry Duggan
Art by Tony Moore
I haven't read a Deadpool book since 2009, but this new team has piqued my interest.  It appears Marvel is taking a more comedic approach to the character.  Plus, you put Tony More (The Walking Dead, Fear Agent, and Venom) on a book, and you've pretty much guaranteed that you will get my 4 bucks.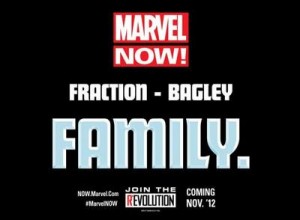 The Fantastic Four
Written by Matt Fraction
Art by Mark Bagley
This one doesn't grab me.  I really liked the previous run on the title with Johnathan Hickman and Ryan Stegmen.  I don't think I'll be checking this out.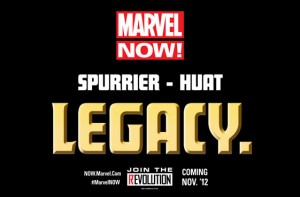 A possible X-Men title?
Written by Si Spurrier
Art by Tan Eng Huat
No clue what this is.  The only thing I've read by Si Spurrier was a Hellblazer mini series (Hellblazer: City of Demons) which was solid.  Again, not a fan of Huat's art.  This is a pass for me.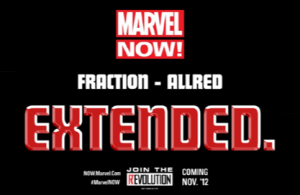 ???
Written by Matt Fraction
Art by Mike Allred
Here's another teaser.  If I were a betting man, I'd guess this has something to do with the previously mentioned Fantastic Four book Fraction is already slated to write.  Maybe it's the extended family?  Your guess is as good as mine.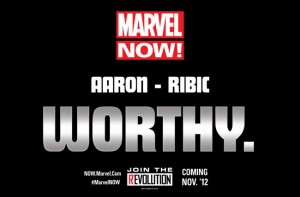 Thor: God of Thunder
Written by Jason Aaron
Art by Esad Ribic
This one is going to be awesome.  Aaron may have been struggling towards the end of his run on Wolverine and The Incredible Hulk, but it can't be denied that he is a great writer.  I don't think he's written things on the scale of Thor, but I have faith.  Esad Ribic has the chops to pull this off, too.  He was the regular artist on The Ultimates and did a great job with it.  This might be the "dark horse" of the relaunches.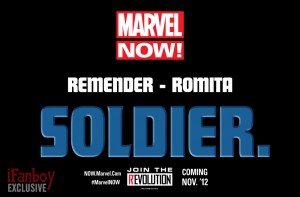 Captain America
Written by Rick Remender
Art by John Romita Jr.
 I'm most thrilled about this book.  Rick Remender is a great choice.  He can funny one moment and deadly serious the next.  Rick is picking up after the amazing run by Ed Brubaker which saw the return of Bucky and brought a spy/espionage element to the Captain America title.  I'm looking forward to seeing what Rick has in store for the Sentinel of Liberty.  To add fuel to the fire, Marvel tapped one of the greatest artists to ever put pencil to paper.  John Romita Jr. has worked on just about every major Marvel character.  He's best know for his work on The Amazing Spider-Man, Daredevil, The Avengers and most recently Kick-Ass. I'm hoping for huge stories with massive action.  I love Cap, and I can't wait to see where this goes.
There you have it, True Believers!  The Marvel NOW! relaunch should be hitting your local comic shops (All American Collectables anyone?) in mid to late November.  Be sure to check my twitter feed (@JoeyButts21) for any updated info about possible new titles coming out of the relaunch.
A LATE ADDITION!!!  Marvel released this teaser image today.  Possible tie in to the Sam Raimi directed Oz?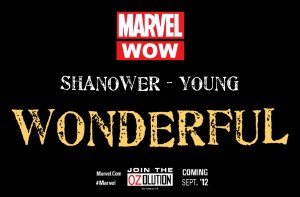 Wonderful Wizard of Oz?
Written by Eric Shanower
Art by Skottie Young
Shanower and Young have done 3 volumes of the Oz books (Wonderful Wizard of Oz, Marvelous Land of Oz, and Ozma of Oz). Again, not sure what this title will be, but these two gents on an Oz book would be golden.