Summit Enterainment working on new Dracula film with Brad Pitt
Summit has hit pay dirt with its investment into the Twilight series. So, why not take a chance on the most famous vampire ever? Well, they intend to do that with a little help from Brad Pitt, who unfortunately is not acting, but producing the film.
From THR.com's Heat Vision Blog:
---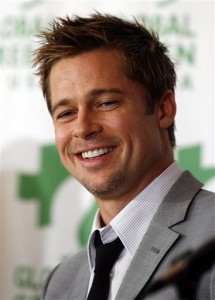 After exploring the romantic angst of vampires in "Twilight," Summit is developing an action-oriented take on the most famous of the fanged: Dracula.
This one already comes with its own heartthrob in the form of Brad Pitt.
The company has picked up "Vlad," a script by actor Charlie Hunnam, and is in negotiations with music video and photographer Anthony Mandler to direct the project. Pitt is producing, not acting, with Dede Gardner via the duo's Plan B Entertainment production shingle.
"Vlad" centers on Dracula as a young prince; he is known to history as Vlad the Impaler, the man behind the Dracula myth.
Summit picked up "Vlad" awhile ago, developing it quietly, but when execs saw Mandler's reel, the project got a shot in the arm.
Mandler is a music-video director who has worked with Rhianna (helming 10 of her videos), the Killers and Eminem. Execs were wowed by the reel he prepared, which drew comparisons to Zack Snyder and his work on "300"; Summit tried to land the latter project before it ultimately was made at Warner Bros.
With "Vlad," Summit hopes to make a visually edgy and radical period movie that also will break a new talent.
Mandler will oversee a polish of the script.
Summit president of production Erik Feig and vp production Meredith Milton are overseeing the project. Jeremy Kleiner will oversee for Plan B.
Hunnam stars in FX's "Sons of Anarchy," recently picked up for a third season, and is shooting "The Ledge," which Matthew Chapman is directing and stars Peter Sarsgaard, Evan Rachel Wood and Terrence Howard. He is repped by WME and Brillstein Entertainment Partners.
Mandler, repped by UTA and Management 360, is also developing "Allegra" with Gregory David Roberts, the author of "Shantaram."
---
Do you ever notice for something to get produced by Hollywood now it has to have a certain feel of an already established blockbuster? We will be lucky to ever get a game changing film into cinemas. No studio is willing to take a risk and let an artist do their work. Instead it has to be similar in style to something that has been popularly marketed. The story sounds enticing, but I don't know if Dracula really needs to look like 300.