TNT Developing 'Dallas' Remake
If you haven't noticed, movies aren't the only things getting remakes these days. Battlestar Galactica got a top notch remake, and right now there is an updated version of The Prisoner going on. Well, now one of the most popular prime time soap operas ever to air might be coming back to your TV set. Will it be able to top it's early days when everyone wanted to know, "Who shot J.R.?"
From THR.com
---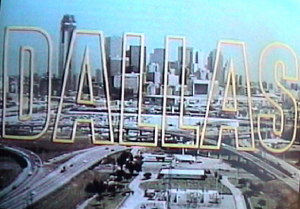 Cynthia Cidre has been tapped to write TNT's new take on "Dallas," the first major development for the project that had been rumored for a couple of months.
The network and Warner Horizon, which is producing the series, are refusing to discuss its story line.
The initial idea was to have the series revolve around J.R. and Sue Ellen's son John Ross and Bobby and Pam's adopted son Christopher, but the studio and the network are waiting for Cidre's take on the Ewing clan and want to read her script before making a decision.
Patrick Duffy, who played Bobby in the original series, Larry Hagman (J.R.) and Linda Gray (Sue Ellen) were approached two months ago about potentially reprising their roles. There are no talks between the actors and Warner Horizon, and a rep for the studio said the three "may or may not be part of" the new series.
"Dallas," which premiered in 1978, was one of television's most successful primetime soaps and ran for 13 seasons on CBS.
Warner Bros. TV has the TV rights to "Dallas" through the 1989 acquisition of series producer Lorimar Television. Feature rights are owned by New Regency, which has been trying to mount a feature remake for the past several years.
In addition to creating and executive producing the Latino family drama "Cane," Cidre wrote and executive produced the A&E pilot "Danny Fricke" and penned the feature "Mambo Kings."
---
I hate to say it, but I'm sure Patrick Duffy is jumping at this chance. Why pass up a paycheck when your career is stagnant? I'm really interested to see where they could take this. Dallas led the way for popular shows like Desparate Housewives and Grey's Anatomy, will it be able to keep up in this modern market? I'm not too sure, the showrunner is going to be from the failed series Cane, which does not give me lots of hope.