Taylor Lautner signed on for 'Max Steel'
It feels like half of the news in Hollywood these days concern Twilight or one of it's stars. Mainly because anyone who involved with it has seen a meteoric rise in fame in the past few weeks. None more so than the young man playing Jacob Black, Taylor Lautner. I'm sure he is getting bombarded by offers right now, but he has apparently chosen to sign on in the movie adaptation of a Mattel action figure, Max Steel.
From Variety.com:
---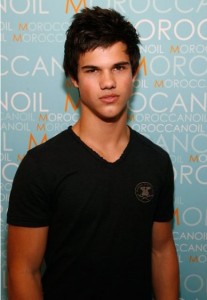 Paramount is looking to "New Moon" hunk Taylor Lautner to help launch another action franchise with "Max Steel," based on the Mattel toy property.
The teenager has signed on to star in the project, which centers on a 19-year-old extreme sports junkie recruited by a secret agency after an accident infects his body with nanobots, making him superhuman.
Paramount is hoping to score another toy-based hit following the successful leap of Hasbro's Transformers to the bigscreen.
The Mattel action figure, introduced in the U.S. in 1999, spawned an animated series that ran from 2000-02. The property is particularly popular in Latin America, where Max Steel is the region's bestselling action figure.
There is no director attached to "Max Steel," which is the sixth property that Mattel has set up in the past year. Chad Damiani and J.P. Lavin have been tapped to write.
Lautner, a relative newcomer with a mere four films to his credit including the two "Twilight" films, will next be seen in New Line's "Valentine's Day."
Damiani and Lavin have "Capeshooters" set up at Warner Bros., with Bryan Singer producing. The duo also penned "Sons of the Hammer" for Strike Entertainment.
---
Who knew toys were so ripe for adaptations? Granted the movies based on toys so far haven't enjoyed much critical success, but they have had significant monetary gains. We shouldn't forget that Hollywood is a business, and as such they are going to adapt anything and throw it at us, even if it is crap.
I'm not sure what Lautner is doing with this. I'm sure he'll get a good paycheck out of the deal, but if the pic bombs he could lose much of his new found popularity. I think he would do well to take a page from the Harry Potter actors, pick a few indie roles to bolster your cred so you can breakout after a popular series. He might be pulling himself into typecasting. Although, maybe he's trying to follow the career of The Rock….