St. Louis Film "American Streetballers" To Debut in 50 million North American Homes May 1st!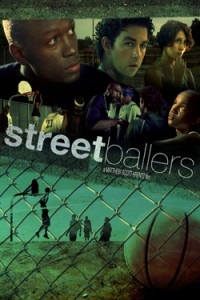 Most of St. Louis will recognize the film as "Streetballers," the story of two college students from different ways of life, that both use basketball as an escape. The film opened last summer at Wehrenberg Ronnies 20, to much success, and moved on to releases across the United States.
Since then, a lot has happened. "Streetballers" had a Los Angeles Premiere, released a special edition DVD and soundtrack, and has been picked up by Warner Brothers. That's right – Warner Brothers. They recently acquired the rights to the film, and changed the title to "American Streetballers." Now over 100 cable, satellite, telco and online outlets will be releasing the film as of tomorrow. They include:
Comcast
Time Warner Cable
Cox
AT&T
Charter
Verizon
Cablevision
DIRECTV VOD
DISH IPVOD
RCN
Insight
Mediacom
Bresnan
Suddenlink
Rogers (Canada)
Videotron (Canada)
Sasktel (Canada)
Cogeco (Canada)
Shaw (Canada)
Telus (Canada)
Amazon VOD
iTunes
This is some truly exciting news for the Streetballers team, and St. Louis!  They have proven that filmmakers in St. Louis  know what they are doing, and are to be taken seriously.  Hopefully this will shed some more spotlight on our city, and help get more movies made here.  For more information about the film, visit the official website at streetballersthemovie.com.
---
SYNOPSIS:
Streetballers is an Irish-Urban drama exploring the lives of two junior-college basketball players and their struggles within a divided city, broken homes and the demands of college-level athletics. Both players are drawn into an underground world of gambling and crime on the courts of the city's tough Northside.
Constantly searching for sanity in the midst of alcoholism, racism and drugs, John Hogan and Jacob Whitmore find release and therapy while competing on one of the most competitive street courts in the U.S. Both men spend an entire summer helping one another overcome adversity to reach their goals. Their dedication and love for the game of basketball transcends the playground courts, reaching into their dysfunctional households, where the two boys play the constant role of the father figure.
Pounding through life one day at a time, Jacob has no choice but to play in an underground league, constantly fighting to keep his cousin Damon out of debt and away from danger and possible death. John's overpowering guilt and family trauma erupt into a state of beautiful confusion with each spiritual intervention by Terry Gibson, a neighborhood boy killed years earlier in a drunk-driving accident.
Together, John and Jacob paint a sad and hopeful portrait with their innocence, concerns, and faith in the unknown.
Watch the Trailer: