Streetballers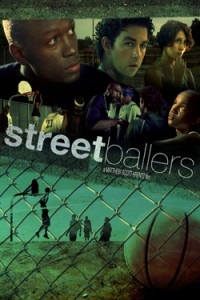 A local St. Louis production, Streetballers is a great film that really gives me hope that the St. Louis film landscape can produce just as good of films as other more film centric areas of the country like LA and New York.
Streetballers follows John (writer and director Matthew Scott Krentz) a college student who is looking at basketball as a way to gain a scholarship. When star on the team, who is being courted by many Division I schools, Jacob, needs help with his Shakespeare class to pass and gain his acceptance to these other schools a partnership is formed. Jacob helps John with basketball, and in turn John helps Jacob pass his class on Shakespeare. In addition to all this both John and Jacob have parallel stories dealing with their problems at home. John is dealing with the homecoming of his older brother, Michael, who was in prison for driving drunk and killing a local neighborhood boy. Jacob must deal with his cousin who is constantly in debt from a local thug , to get him out of these jams he must play streetball to win the money back.
I'll be candid here, when I first heard the premise of the story I though that the film wouldn't entertain me. As a geeky middle class white boy, would I really be interested in an urban story about an urban street sport? However, I'm a fan of film, and I really wanted to see what the buzz about this St. Louis film was all about. I'm ecstatic now that I saw it and since last night I have been urging everyone I know to see it.
You see like all movies that I love, this story might follow something that isn't up my alley, but it focuses so clearly on the characters that it is hard not to love. The fact that it has no recognizable star power in it has no effect on the story. You have pure and unadulterated story telling here from a first time feature director. Krentz isn't in love with showing pretty imagery, but more about showing the characters and their motivations.  Every character in this film seems to be layered in such a way that you wouldn't be surprised to run into them on the street.  I have seen so many low budget and local productions that seem to miss the entire point of film. Sure a film should tell the story with the images just as well as the dialogue, but if you don't have both, you don't have anything.
The way this film is shot looks beautiful as well. I loved that the production went with bumping up the contrast in the film rather than desaturating the colors to a point where everything looks monotone. It seems to be very en vogue right now to draw down the colors in an indepenent film to give it a more "artsy" type feel. The cinematography here is great, colors pop right off the screen and are so vibrant that they sometimes have a very unreal quality about them.  There is a lot of depth to the shots and they seem on par with films that are made with much higher budgets.
I mentioned earlier that the film has no star power to back it. Paying a well known actor to be featured in this film most likely would have doubled their budget. It doesn't suffer from this fact, and I think if this film takes off it could launch the careers of many people involved with it.  Sure there are a few performances from minor characters that seem a little too over the top, like they may have been from your local community theater.
The two male leads, Matthew Krentz and Jimmy McKinney have great chemistry as friends who come from two completely different areas but find a camaraderie in a mutual love, basketball. The friendship feels organic and not forced in any way. If this relationship doesn't work, the film doesn't. It is the central relationship to the film, and I'm glad to see it pays off in spades. Adrieanne Perez, who plays the love interest to Krentz's John works great in the film. She posses a girl next door quality and a fiery spirit to match it (and apparently a great shot with a BB gun). If there is someone in this film who I think has the potential to breakout other than Krentz it has to be Perez. She has a charismatic personality that really pops on screen.
In the main cast there really isn't a weak link.  In low budget films it is really hard to find such a solid cast, and it speaks very well of Krentz's directing abilities to be able to control such a large cast and milk some very good performances out of all of them.
I think my only major complaint of the film comes in the editing. Scene changes were a bit abrupt at times and took me out of the film for a second. The basketball scenes tend to be a bit overly long as well. I know it adds much needed action appeal for the audience, but I think it could have been used to just as great of effect without showing as much of it. We see some of the same shots twice, and it just feels a bit unnecessary.
Overall, Streetballers killed all my expectations and left me excited for the future of the talent in this film. It is nice to see St. Louis represented by some great new up and coming talent. It is an impressive first feature effort from this team and I can only hope that their second effort is as good.
Streetballers gets an A.
(NOTE: This film is playing in a limited engagement this week in St. Louis at Ronnie's and The Tivoli. Go support your local filmmakers and see it. Come back here once you do and let us know what you thought!)