Al Gore Hosts the Nashville Premiere of Quentin Tarantino's "INGLOURIOUS BASTERDS"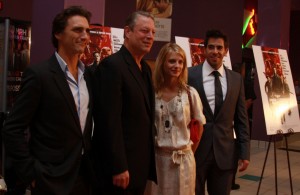 Yesterday, August 20th, Al Gore hosted the Nashville premiere of INGLOURIOUS BASTERDS. The film is the latest from Quentin Tarantino, and stars Brad Pitt, Diane Kruger, Mike Myers, Eli Roth, Melanie Laurent, BJ Novak, Christoph Walts, Michael Fassbender, Til Schweiger, and many others. Many celebs showed up.
Check out photos from the exclusive event below:

(Thank you to Bev Moser for the photos)
About the film – In the first year of the German occupation of France, Shosanna Dreyfus (Mélanie Laurent) witnesses the execution of her family at the hand of Nazi Colonel Hans Landa (Christoph Waltz). Shosanna narrowly escapes and flees to Paris where she forges a new identity as the owner and operator of a cinema.
Elsewhere in Europe, Lieutenant Aldo Raine (Brad Pitt) organizes a group of Jewish American soldiers to perform swift, shocking acts of retribution. Later known to their enemy as "the basterds," Raine's squad joins German actress and undercover agent Bridget von Hammersmark (Diane Kruger) on a mission to take down the leaders of the Third Reich. Fates converge under a cinema marquis, where Shosanna is poised to carry out a revenge plan of her own….
Employing pulp and propaganda in equal measure, Quentin Tarantino's INGLOURIOUS BASTERDS weaves together the infamous, oppressed, real and larger-than-life stories of WWII.
"Inglorious Basters" opens in theaters everywhere TODAY!