The Fabulous Fox Theatre Brings "Avenue Q" to St. Louis (Review)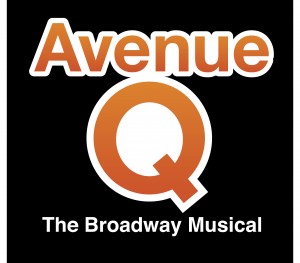 When you think of puppets, generally you think of classic shows like Sesame Street or the Muppets.  But after you see "Avenue Q," you won't be able to get this original, clever, and downright hilarious production out of your head!
"Avenue Q" is a unique show that takes place on Avenue Q, an elaborate set which encapsulates intricately designed buildings which switch between interior and exterior settings.  The cast is comprised of both real characters, and puppets.  But rather than have the puppeteers off-stage, the actors who voice and control the lovable stars of the show are front and center on stage.  Once you meet meet them, you soon forget that they being controlled, and the colorful characters take on a life of their own.
Princeton (BRENT MICHAEL DiROMA) is a college graduate, who is looking for his purpose in life.  About to start a new job, he finds an apartment on Avenue Q. There he is introduced to the landlord – none other than Gary Coleman (NIGEL JAMAAL CLARK). Clark does an outstanding job as Coleman, as he has the look, the voice and the mannerisms down perfectly. On Avenue Q he meets the rest of the tenants: Kate Monster (JACQUELINE GRABOIS), Brian (TIM KORNBLU), Christmas Eve (LISA HELMI JOHANSON), Rod (BRENT MICHAEL DiROMA), Nicky and Trekkie Monster (MICHAEL LISCIO, JR.). The entire cast does an exceptional job. The show and all of the characters are essentially controlled by 7 actors. Many times, they are switching back and forth, controlling different puppets and staying in character. And the result is a flawless, entertaining performance that has the entire audience laughing for most of the show.
Be warned, "Avenue Q" is not for the extremely conservative crowd. There is a lot of subject matter and language that is intended for adults. But if that is no concern, the show is one of the funniest that you will see. The writing is extremely clever, and the songs very catchy. The show starts off with "What Do You Do with a B.A. in English?" as the characters try and figure out what has happened to their lives. This leads into "It Sucks to Be Me," where Brian, Kate Monster, Rod, Nicky, Christmas Eve, Gary Coleman, and Princeton all explain why it sucks to be them. Nicky and Rod are roommates, and Nicky suspects that Rod may be in the closet. He sings "If You Were Gay," as Rod humorously tries to defend his heterosexuality. "Everyone's a Little Bit Racist" is a number that speaks for itself. Although these are serious subjects, the characters tackle them with such levity and humor that they don't come off offensive. Probably one of the most recognized songs from the show, and one of the funniest, is "The Internet Is for Porn." Performed mainly by Kate and Trekkie Monster, Kate tries to explain that her teaching lesson will be about the internet – which Trekkie believes was solely invented for the viewing of pornography. It really is hilarious. The rest of the show is incredibly fun and entertaining, and never has a dull moment as the audience eagerly awaits the next scene.
If you have a chance to check out "Avenue Q," make sure that you do so. The show won the 2004 Tony Award® for Best Musical, Best Score and Best Book. And it truly deserves all of the positive press and word of mouth that it has received ever since. The characters, songs, and performances are like none that audiences have seen before. Chances are you will love the show, and will be thinking of it long after the curtains have closed.