Mr. Harry's Carnival Foods in Ballwin is Now Open!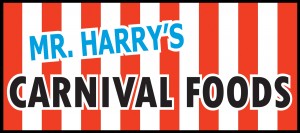 If you are looking for something different than your average restaurant – look no further.  We've found a place that is like nowhere you have ever been before!
Mr. Harry's Carnival Foods, located in Ballwin near the Bedroom Store and Pasta House Co. on Manchester, is now open! The grand opening was yesterday, and people were lined up out the door to see what this original restaurant is all about! Mr. Harry has taken all of the foods that we love to eat at the carnival – like funnel cakes, pretzels, shaved ice, hot dogs, and much more – and created a place that you can find them year round!
Not only can you find all of the delicious offerings that you crave at a carnival or fair, but you will not be disappointed with the taste! The funnel cakes are some of the most popular choices for snacks, and will make you feel like you are right in the middle of a carnival. The shaved ice is the best that I have ever tasted, as soft and fresh as new snow. And with flavors like Strawberry Cheesecake, Wedding Cake, Margarita, Cotton Candy, and Root Beer – they are not to be missed!
Click here to download the full menu.
Mr. Harry's Carnival Food is decorated from top to bottom with carnival and circus decor.  It is truly original restaurant, and is a fun place for the entire family to eat lunch, dinner or even just a quick carnival snack.  Just one taste of one of their creations, and you will find your self coming back before you know it.
For more information, visit mrharryscarnivalfoods.com.