"Scream 4" Has Star Power! Casts Adam Brody, Marley Shelton, Anthony Anderson, Allison Brie, Rory Culkin, and More!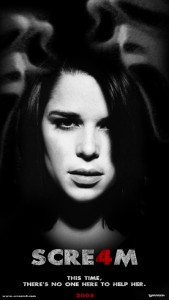 A few months ago it was announced that Wes Craven would be making another entry into the Scream series. (Read about it here.) This new film would bring back original cast members like Neve Campbell, Courtney Cox, and David Arquette, along with a new cast to continue the series. Well, the new cast is growing quickly, and it includes a lot of familiar faces.
Marley Shelton, Anthony Anderson and Adam Brody have both joined the horror film, which began shooting earlier this week, as detectives who are trying to track down the masked killer. Shelton plays a deputy named, Deputy Hicks, who works under Arquette's Dewey Hicks. Brody will be playing a detective who is green behind the ears, and fresh out of college.
Hayden Panettiere and Emma Roberts were previously announced to be having roles in the film as well. Joining them will be Community's Allison Brie, Scott Pilgrim's Rory Culkin and Erik Knudsen, Battlestar Galactica's Mary McDonnell, and Make it or Break It's Nico Tortorella.
It looks like Wes Craven is going all out on this endeavor. Sure, none of these names are household names, but they should all do fine as supporting cast members. I still maintain that Adam Brody has a decent star quality, but he has yet to be attached to a project that seems to suit his charm.
What do you think? Let us know in the comments!