Wes Craven and Original Cast Back for "Scream 4"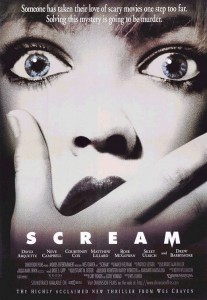 All you Scream bloggers (all four of you) out there can finally stop waiting. Scream 4 has been greenlit, and Wes Craven will be directing.  Neve Campbell (who has nothing better to do), David Arquette (likewise), and Courtney Cox (whose salary will count for half of the budget), will all be back with a new cast of younger characters. Writing this sequel/reboot will be writer Kevin Williamson. The film has a set release date of April 15, 2011.
"Working with Courteney, David, and Neve was a blast ten years ago and I'm sure it will be again. Kevin is right on his game with the new script — the characters and story crackle with energy and originality — to say nothing of some of the most hair-raising scares I've seen in a script since… well, since the original Scream series. Let me at it," said Craven.
I enjoyed the Scream movies when I was a teenager. They were just tongue in cheek enough at points to make me appreciate it. I'm not saying they were great films, but they managed to entertain most of the time. Although, really I only remember the plot to the first one. After that it all kind of gets mixed up in all the clones Hollywood produced. I doubt this film will be a huge hit, but judging from the latest trends we'll probably see it in 3D, and Courtney Cox will not be taking her top off.