'Salt' starring Angelina Jolie – HD Trailer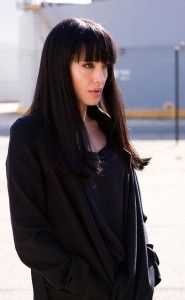 I've never really thought of Angelina Jolie as an action hero, but she seems to be convinced she is one. With roles in films like Tomb Raider, Mr. and Mrs. Smith,  and Wanted she seems to be solidifying herself as a bad ass female action hero. Although what I think is even more impressive about her in this film is who the role was originally intended for, none other than Tom Cruise. Luckily, it seems they have found someone taller to fulfill the role.
The other thing about this film, doesn't it seem about twenty years too late? The Cold War has been over for a while, and I'm not sure audiences really care about the Russians that much anymore (sorry Ruskies). Although, I'm pretty sure legions of young men will be going to see Angelina bare more of her body once again. I'm more interested in seeing Chiwetel Ejiofor and Liev Schreiber tear it up on screen.  Looks like it could be a fun ride.
Synopsis:
Angelina Jolie stars as a CIA operative on the run in the spy thriller Salt, a Columbia Pictures production from writer Kurt Wimmer (Equilibrium). Director Phillip Noyce helms the picture, which focuses on the plight of a government agent who's been wrongly accused of being a Russian assassin out to take down the U.S. president. Liev Schreiber and Chiwetel Ejiofor head up the rest of the cast. ~ Jeremy Wheeler, All Movie Guide
Cast: Angelina Jolie, Liev Schreiber, Chiwetel Ejiofor
Director: Phillip Noyce
Genres: Unglamorized Spy Film, Thriller
Release Date: July 23, 2010