Danny Boyle to tell the story of Aron Ralston
My respect for Danny Boyle grows with just about every film he does.  Trainspotting is one of those disturbing films I can't help but like. 28 Days Later is responsible for giving the zombie genre a good kickstart. Millions was one of the best children's movies I've ever seen. Well, now he is setting to tell the story of one of the biggest badasses I have read about, Aron Ralston. Who is this you might ask?  Ralston is a hiker who got pinned under a boulder, and amputated his own arm with a dull knife when it was apparent help was not coming. He then hiked and climbed his way to safety. Yeah, kind of makes you feel like a bit of a pansy doesn't it?
From Variety.com:
---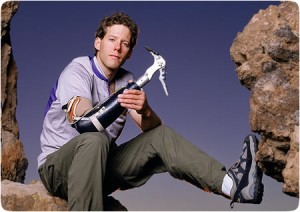 Fox Searchlight and Danny Boyle have firmed plans to make their next collaboration "127 Hours," a film that tells the story of mountaineer Aron Ralston.
Boyle will direct the film, with production to begin next year for a late 2010 release. Pic is financed and distributed by Searchlight in partnership with Pathe.
Boyle has written a treatment, and Simon Beaufoy is in talks to write the script, and Christian Colson will produce. That would mean a reunion of the creative team and the financiers behind "Slumdog Millionaire," which won eight Oscars.
Ralston's right forearm got pinned for nearly five days under a boulder during a climb in Utah in May 2003. He used a dull knife to amputate the limb, then scaled a 65-foot sheer wall and hiked out before running into a family that gave him water and food. He was finally rescued by helicopter.
The pic marks Boyle's fifth collaboration with Fox Searchlight, following "Slumdog Millionaire" (which the distributor picked up from Warner Bros.), "Sunshine," "28 Days Later" and "Millions." Boyle directed "A Life Less Ordinary" and "The Beach" at 20th.
Boyle is now looking for an actor to play Ralston, a plum job considering he's alone for most of the film.
---
I think what makes Ralston's story even more impressive is that he continued on after losing his right forearm. He has solo climbed all of Colorado's mountains which exceed 14,000 feet. He intends to climb Everest next year. I'm sure after this film is made he can cry nightly at the loss of his forearm into his giant pile of cash.