Rumor Mill: James Cameron and Angelina Jolie Teaming Up For "Cleopatra 3D"?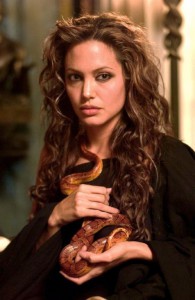 Sony is making big moves to sign two big names to their big budget 3D period piece about Cleopatra. Sony wants a marquee name to sell the film, and who better than Angelina Jolie? She, of course, possesses the right kind of beauty, and a sense of grace that is suitable to the character.
The other big move Sony Chairman Amy Pascal is trying is grabbing Avatar director James Cameron, who has solid experience in the field of 3D, and is familiar with big budget period epics. The question is, can she get both on board?
Jolie has made known in previous interviews that she would like to play Cleopatra:
"I will play it differently to Elizabeth Taylor, but I could never be as lovely as she was. We are trying to uncover the truth about her as a leader and not just a sex symbol which she really wasn't—she didn't have many lovers, maybe only two, and they're men she had children with…She was misunderstood and her life story was written wrongly. I always thought her life was very glamorous. Then I read her story and found a different side to her – that she was a mother, leader and an intellect who spoke five languages! Her upbringing also reflected her relationship with Rome—all that is much more interesting than what she was summed up to be."
The real wildcard here is Cameron. The famous director is busy with a few other projects, including the highly anticipated sequel to Avatar, which might mean Cameron doesn't have time in his budget for the size of film Cleopatra is bound to be.  Although, numerous trades are reporting that the director is very interested in the job, and there is a good chance he is going to take it.
What do you think? Should James Cameron direct? Do you like Jolie in the role? Let us know in the comments!