Ridley Scott the Big Bad Wolf?
Ok, so not really. He is adapting a UK miniseries titled Red Riding into a feature length film. I have not seen the miniseries so I can't really comment on whether or not it is a good idea, but the concept seems real interesting.  Ridley Scott will forever have my respect for Blade Runner, but I feel he's a hit or miss director. His last few films haven't been awful, but they have been fairly disappointing compared to their hype.
From Variety.com:
---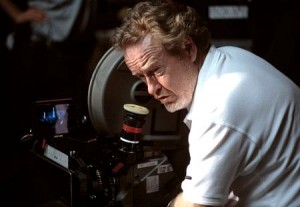 Columbia Pictures has acquired rights to remake the U.K. miniseries "Red Riding," and is negotiating with Steve Zaillian to write the script and Ridley Scott to direct.
The project, based on four David Peace novels, will be distributed in the U.S. this fall by IFC. Studio bought rights to the mini and the novel series.
Scott will produce through his Scott Free banner, along with Zaillian, through his Film Rites banner, and Andrew Eaton of Revolutionary Films, which produced the mini. Garrett Basch of Film Rites will be executive producer.
The miniseries is a study of power and police corruption framed around the investigation of the disappearance of several young girls. For the pic, the setting will be transferred from Britain to the U.S. The mini clocked in at more than five hours, so Zaillian and Scott have their work cut out for them to compress it into one film.
Zaillian last worked for Columbia on a rewrite of the Michael Lewis book "Moneyball" to star Brad Pitt that the studio was ready to put into production until Steven Soderbergh did his own rewrite that prompted the studio to halt the film days before it was skidded to begin production.
Scott and Zaillian previously collaborated on the films "American Gangster" and "Hannibal." Zaillian at present is adapting Par's drama "I Hear You Paint Houses" for Martin Scorsese.
WME reps Scott and Zaillian.
---
One look at Zaillian's work is enough to show he has talent. He has been responsible for some very great screenplays over the years. Although, this one is an adaptation, so can it be told as well it was the first time? Looks like I have some watching to do.