Keener and Owen have 'Trust' Issues
David Schwimmer is slowly moving from being an actor into the director's chair. Can you blame him? He's experienced the fame of being on one of the most popular series of all time. Which that entitles him to sums of money large enough for anyone to never have to work again. Why not try your hand out at a few new things? His first feature film Run Fatboy, Run was entertaining enough (mainly due to the extremely likeable Simon Pegg). So, for his second feature he is working with Catherine Keener and Clive Owen. Sounds like a great start to his second film as a director.
From THR.com
---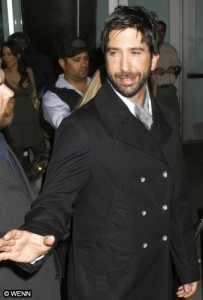 Clive Owen and Catherine Keener are starring in "Trust," a drama David Schwimmer is directing for Millennium Films.
Schwimmer, making his second foray into directing, came up with the story and is producing with his Dark Harbor Stories partner Tom Hodges. Andy Bellin wrote the script.
"Trust" tells the story of a family blindsided when their teenage daughter becomes a victim of an online sexual predator.
Owen and Keener play the parents. Newcomer Liana Liberato is the daughter.
Nu Image/Millennium is producing and finanacing, with Avi Lerner, Heidi Jo Marker and Bob Greenhut producing and Danny Dimbort, Trevor Short, Boaz Davidson and John Thompson executive producing.
Gersh Independent's Jay Cohen packaged the film and will work to secure domestic distribution rights. Nu Image will distribute the film worldwide.
Schwimmer's first film was the Simon Pegg-toplined comedy "Run Fatboy Run," which topped the U.K. boxoffice for five consecutive weeks in 2007 and was nominated for a British Independent Film Award. He is repped by Gersh and Management 360.
Keener, also repped by Gersh, stars in Spike Jonze's "Where the Wild Things Are" and next reteams with her "Friends With Money" helmer Nicole Holofcener for "Please Give."
The CAA-repped Owen is in Miramax's drama "The Boys Are Back."
---
So, basically they are making Dateline's To Catch a Predator into a fictional story for the big screen? I'm sure we'll see Owen quietly rage on screen, and Keener flip out. Let's just hope the boys over at 4chan don't get wind of this.