Review: 'Hands on a Hardbody' at New Line Theatre (May 29-June 21)
Chances are that if you're watching live theatre in the Midwest, more often than not it's tough to be genuinely surprised. That doesn't mean there is any lack of talent or amazing shows that come through town. And we have a great theatre community in St. Louis. Yet there is a huge difference between seeing a show that you know will be amazing – and feeling completely surprised by something risky and new. Most shows we see are already proven, and who can blame them? It's expensive to put on a show, and especially to bring us something new from Broadway. Yet this isn't the case with New Line Theatre, who time after time produces shows that are different and widely unknown. Artistic director Scott Miller has a true talent for recognizing the potential in shows we might otherwise have never seen, and filling them with some of the best actors in town. With that being said, I introduce you to their latest success: Hands on a Hardbody.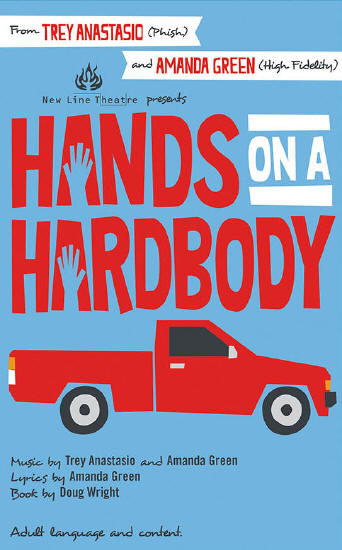 Based on a documentary film which follows true events from 1995, Hands on a Hardbody takes the audience to Longview, Texas for an annual competition of endurance. The prize? A brand new pickup truck. And it's a musical. How wonderfully strange and fantastic the synopsis sounds. But you haven't seen or heard anything until you've been to the show.
Songwriter Amanda Green is no stranger to bringing us this sort of unexpected gem. My first introduction to New Line Theater was in 2012 with their production of High Fidelity, based on one of my favorite films. But a musical? Green was responsible for those lyrics, and the show was an absolute blast. And how about the surprise Broadway hit "Bring It On The Musical," based on a 2000 high school comedy about cheerleaders? Green teamed up with the mega-talented Lin-Manuel Miranda (In The Heights) and Tom Kitt (High Fidelity, Next to Normal) on that one, which completely caught me off-guard with how fun it was. And now Green, along with Trey Anastasio (Phish) and a book by Doug Wright (Quills, The Little Mermaid), has done it again. This time with a musical about a contest to win a truck. On paper, it's hard to imagine that the show could be so amazing. But I've learned to trust both New Line and Green by now, and both have yet to let me down.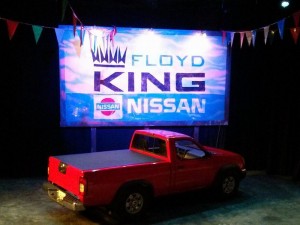 The show takes place on the lot of Floyd King Nissan ("pick up and go!"), with the main set piece being a beautiful bright red Nissan Hardbody truck. Masterfully crafted by set designer Rob Lipper, the focal point of the show sits front and center – appearing to be nothing less than a full-sized, functioning truck. It's so impressive that other theater companies have already contacted New Line to try and rent it for their own productions of the show. It is often hard to take your eyes of this beautiful creation, and luckily you don't have to. Almost everything from beginning to end takes place around the Hardbody. High above the truck hangs a sign for the dealership, behind which the band is housed. It is really neat how the bottom of the sign is semi-transparent, so you can see the musicians when the lighting is just right.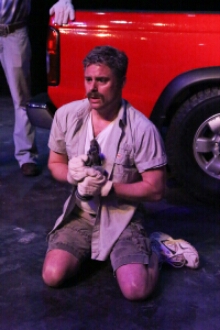 There are so many stand-outs in the show that it is hard to focus on just one performer. If you had to pick a lead, the show bounces back and forth between Benny Perkins (Jeffrey M. Wright) and JD Drew (Todd Schaefer). Wright, who also played the lead in High Fidelity, is perfectly unlikable when he needs to be, as the previous winner of a blue Hardbody from the contest. His narration opens and closes the show, and his performance is one of the many highlights throughout. Benny comes to win, and doesn't try too hard to make friends. That is except for JD, one of the older contestants who has recently been laid off due to a work injury. Schaefer's portrayal is wonderful, transforming himself into the 60 year old Texan with the look of a cowboy and the Texas drawl to match. Kudos to the fantastic hair and makeup that helped hide the youthful actor behind the hardened character. His song "Alone With Me" with on-stage wife Ginny, played by Alison Helmer, is heart-wrenchingly beautiful.
The songs in this musical are so damn good. It's hard to find the words that will truly do them justice. The New Line Band, lead by conductor Sue Goldford, does a terrific job as always. New Line has a solid track record for finding great musicians for their shows, and this may be one of the best sounds yet. Each song is catchier than the next, a testament to veteran singer-songwriters Anastasio and Green. The comedic numbers are hilarious, and the serious songs are beautiful, emotional, sad, joyful – whatever they need to be. Green is a brilliant lyricist, surely having learned a thing or two from Tony Award-winning parents Adolph Green and Phyllis Newman. Songs like "If She Don't Sleep," "Joy of the Lord," and "Hunt With the Big Dogs" are just a few shining examples of the cleverness she crafts with her lyrics.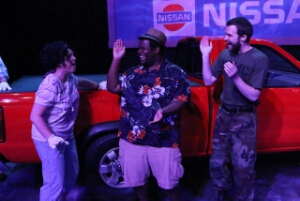 There is no shortage of phenomenal voices to be found in Hands on a Hardbody. Anna Skidis, who was brilliant as Mimi in Rent earlier this year, plays the peppy and spiritual Norma. She is always fun to watch perform, and has a terrific voice which excels in the number "Joy of the Lord." Vying for her affection is Marshall Jennings as Ronald, as he tries and fuels himself with Snicker bars. But the "heat and the sweet" are only a few of his problems, which he uses his soulful and powerful sound to express in "My Problem Right There." I particularly loved how the female leads maneuvered around the truck to be his backup singers and dancers. Joining them are Marcy Wiegert as Kelli, a UPS worker whose ticket to something better is winning the truck, and Ryan Foizey as Greg – who desperately wants to stop sharing his mom's VW Bug and become a stuntman in Hollywood. Both are talented actors who are no stranger to New Line. Both show a wide array of emotion, especially when dealing with the manipulative Benny, and bring a lot to the show. It is especially fun to watch them gang up on Benny when they finally get tired of his crap – during the song "Hunt With The Big Dogs."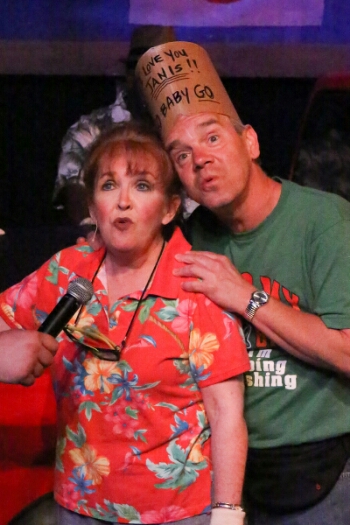 I especially loved watching Cindy Duggan as fiery grandma Janis Curtis, and Keith Thompson as her husband and cheering section – Don. Although Janis is the oldest contestant, she doesn't let much of anything stop her – especially from speaking her mind. The two of them have a brilliant chemistry together, and are so much fun to watch every time they step into the spotlight. It was particularly fun to watch Thompson on the sidelines, never turning off the character while snacking on pretzels and reading his paper as a spectator.
The creatives did a really great job of developing all of the characters in the show. Everyone has a specific motive, and one thing they have in common is that the truck is the solution to at least one of their problems. Jesus (Rey Arceno) wants to open his own business with the truck. Heather (Taylor Pietz) wants to relive the memories of learning how to drive in her dad's old rusty truck, and isn't afraid to bend the rules to get what she wants. Pietz adds a great comedic element to the show, and brings a ray of sunshine to the competition.
Mike Dowdy, along with taking on the assistant director position for the show, plays the manager of Floyd King Nissan ("pick up and go!") – Mike Ferris. Like many of the New Liners, Dowdy is an incredibly versatile actor who can play anything with pizazz. From the moment you meet Ferris, you know he is up to something. It's great to see his character transition throughout the show from the proud and confident salesman, to shaking out any remaining cards from his sleeve he can to keep his hand alive.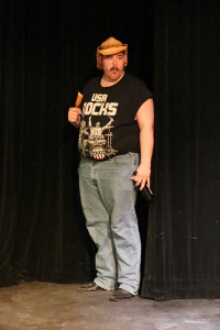 Joining him are Margeau Baue Steinau as Cindy Barnes, his co-worker that helps run the competition, and Zachary Allen Farmer as radio personality Frank Nugent. Both actors were responsible for a lot of laughs throughout the show. Ever since the first time I saw Farmer on-stage, you could tell that he was an extremely talented actor. Not only can he sing, and not only can he nail a dramatic role (see Theatre Lab's The Sunset Limited), but he puts a ton of thought into his body language and facial expressions. It's a delight to watch his masterful portrayals, right down to all the tiny nuances that he puts so much thought into.
Last but certainly not least, Luke Steingruby plays Chris Alvaro – a stoic marine who has recently returned home from war. We don't learn much about his character until close to the second act, but when we do the portrayal is explosive. His character is a far departure from Steingruby's last role as Angel in Rent, yet the actor handles the 180 with finesse. As you would imagine with most characters coming home from war, he's dealing with some deep issues while trying to keep it together for the contest. Some of his best work is opposite Wright, whose character we learn has also been through a lot, and the result is some powerful art.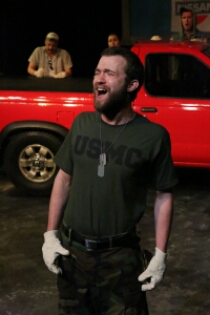 Directors Miller and Dowdy deserve a ton of credit for staging this play. It is clear to see how difficult the stage direction on a show like this would be, and the two of them were able to expertly place the actors around the full-sized truck without missing a beat. Never is it confusing as to which character the audience should focus on. And the characters are constantly moving and repositioning, in a natural and fluid manner – all the while managing to keep at least one hand on the truck. Take my word for it, I watched for a slip-up just to see how dedicated these actors were – and if contact was ever broken it was few and far between.
With great music, a talented cast and a a tremendous group of creatives, Hands on a Hardbody is the surprise hit of the year. There's something in it for everyone, and surely some aspect to relate with. Whether it's a truck, or something else your chasing, you've got to "just keep holding on."
New Line Theatre's HANDS ON A HARDBODY runs now through June 21. For more information and to buy tickets, visit NewLineTheatre.com.