Previewing the 2012 St. Louis Cardinals – First Base
For the first time since 2003, the St. Louis Cardinals will open the season with a first baseman not named Albert Pujols.
I'll let that sink in.
Stings the nostrils.
I've already shared my thoughts on Albert and his defection to the Angels, so I won't delve back into that. Re-hashing the past isn't what ReviewSTL is remunerating me for. Rather, I'll be thankful we have a few alternatives that could pick up where Albert left off.
Lance Berkman, 12
2011 statistics – .301/.412/.547, 31 HR, 94 RBI, 2 SB, All-Star
I wasn't exactly sure why the Cardinals picked up William Berkman last winter. It wasn't that I didn't like Berkman; of all the Houston Astros from the last decade, he's one of the guys I liked the most. I didn't think it was a terrible choice, but I felt Allen Craig had earned the spot in right field. Berkman was coming off easily the worst season of his career, during which he posted a slashline of .248/.368/.413 with 14 HR and 58 RBI, by far his lowest totals in a full season.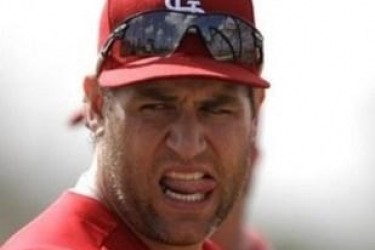 So what'd Berkman do? He reported to training camp 20 pounds lighter and mashed the ball from day one. He was one of the Cardinals' most consistent hitters and provided a steady veteran presence in the clubhouse. He kept the clubhouse loose and was considered an excellent teammate, begging Pujols to return after the World Series for one more run at a title. The Cardinals were so enamored, they re-upped his contract for 2012, giving him $12 million.
In the playoffs, Berkman struggled in the NLDS (except for one beautiful swing off Roy Halladay), but rebounded to have solid series against the Brewcrew and Rangers. He was the absolute definition of clutch in Game 6, bottom 10, stroking a two-out, two-strike single into center to tie the game, setting the stage for St. Louis' current favorite native son to win it in the next frame.
Now that Albert's gone, it's hoped that the move to first will be a bit easier on Berkman's knees. He's not a young guy anymore (turns 36 February 10), but last year demonstrated he's still got a little left in the tank.
That's not to say there aren't any worrisome indicators. Berkman's power took a sharp drop in the second half of the season, as he hit 24 home runs and drove in 63 in the first 82 games, 7 home runs and 31 RBI in the final 63 he played in. Interestingly, his average went up (.290 to .315) and his on-base percentage also increased (.404 to .423). How would one explain this? Could be a couple different things. One likely theory is that the increased running while playing outfield fatigued his knees. Most of a hitter's power comes from their core and leg strength and the torque generated from the rotation. Remove that torque but keep the bat speed and a guy can still drive the ball, just not as far. Berkman was primarily an outfielder as recently as 2004, but began the transition to playing first base in 2005, and until this past season he hadn't played in the outfield since 2007.
Much was made of his platoon splits, but he wasn't as bad from the right-side of the plate as in recent years. Although his stats batting left-handed were decidedly better (.307/.427/.571, 27 HR), he wasn't horrible right-handed (.277/.348/.455). Still, when Craig returns, you could see him getting the share of starts at first base when the Cardinals face a left-hander.
Fielding-wise, Berkman's a step down from Pujols, who won his fifth Fielding Bible award last season.* Berkman has decent hands and the ability to scoop bad throws, but has limited range and his height (two inches shorter than Albert) limits his range of motion at first. Still, he's not a terrible first baseman.
* – Fielding Bible's an independent fielding award handed out after the season. Only one player per position is given the award instead of one player per position per league, so it's invariably more difficult to earn. The award's based solely on defensive statistics and sabermetrics, whereas most baseball people tend to believe the Gold Gloves, which are voted by the managers, are somewhat influenced by reputation and offensive contrirbutions.
Allen Craig, 21
2011 statistics – .315/.362/.555, 11 HR, 40 RBI, 5 SB
Craig's one of the more exciting young bats the Cardinals have produced through their system in a while. He's 27 and entering the prime years of his career. In limited action last year, he managed to hit for solid power (the 11 home runs were in 219 plate appearances, which would project to 25-30 home runs over the course of a full season) and average, and he stole five bases without getting caught.
Unfortunately, the reason for his limited action was a broken kneecap, which eventually required microfracture surgery and will likely keep Craig out of action for at least the first month of the season. It's possible he could make a quick comeback and be ready Opening Day, but I also wouldn't be surprised if he missed the entire first half to bring his leg back to full strength.
Had the injury not happened, Craig would likely have been the starting right fielder to open the season, but he has also played extensively in the infield. He started his minor league career at third base and shortstop before transitioning to the outfield and first base. Once he returns, he'll likely be the backup first baseman for Berkman. Craig managed to hit right-handed and left-handed pitchers equally well, with a little more power coming against lefties.
He probably won't be winning too many Gold Gloves in the field, but he's adequate. He isn't the quickest guy to the ball in the outfield, so his range is somewhat limited, but he makes the routine plays, and he robbed Nelson Cruz of a potential home run in game 7 of the World Series. Even as a second-year player, Craig showed the team he can handle pressure, as of his five hits in the World Series, three of them were home runs, including the game winner of the clinching game 7.
Mark Hamilton, 38
2011 statistics – .213/.275/.277, 0 HR, 4 RBI
Hamilton's been caught in the unfortunate position of being blocked at first by Pujols the last couple of seasons, as he's hit minor league pitching for average and power. Had the Cardinals been looking for a first baseman, there's likely a chance he would have gotten a crack at earning the position. Alas, with Pujols and now Berkman manning the spot, Hamilton's been left in baseball purgatory. He's 27, so he's getting to the point that the Cardinals would either need to give him an extensive look or consider trading him to another team that might.
Watch out for:
Matt Adams
I've had a baseball mancrush on Matt Adams for the last couple of seasons. He's a big guy (think Adam Dunn or Jim Thome in terms of build), so he's not exactly nimble, but man, he can hit. Last season at AA Springfield, he hit .300/.357/.566 and cranked 32 HR and drove in 101 runs in 115 games (he missed two weeks due to injury in the middle of the season). He's 23 and will likely be given the chance to start at AAA Memphis. The Cardinals are so high on his bat that had they re-signed Pujols to a long-term deal they were pondering converting Adams to an outfielder for the chance to keep his bat in play in the majors. Should he continue his hitting trend and improve his defense, there's a decent chance he could be starting in St. Louis in 2013 or 2014.