End of an Era: Pujols Bolts for the Coast
I wasn't old enough to see Stan Musial in his prime. I wish I could have. I hear stories about his amazing hitting, his generosity, his willingness to break racial boundaries and sit with his teammates in a time that such an act would earn the odium of others.
For the last 11 years, I didn't have to.
I grew up idolizing Ozzie Smith. I learned to play shortstop because of him. I took the jersey number 1 in CYC baseball because of him. Ozzie was one of the greatest of all time, and I was only 12 when he retired. After him, Mark McGwire came to town, and everyone fell in love with him.
I remember the spring of 2001 pretty intently. It was a time of growing up for me. I was a junior in high school at DeSmet, and I was getting ready to take the ACT and SAT in hopes that I'd get accepted into a top-notch university.
That March, my father had also walked out on my family three weeks before my 17th birthday. I was devastated. I didn't know how to cope. I was no longer playing competitive baseball, just local leagues. Still, I had the Cardinals.
So, I turned to baseball once again. Mark McGwire was coming off an injury-laden 2000 campaign, but he'd still hit 32 home runs and had yet to be reached by the implications of the Mitchell report. The season before, the Cardinals had acquired Jim Edmonds and he instantly became a fan favorite. JD Drew was considered the future of the Cardinals' outfield. Darryl Kile had come to the Cardinals and become their staff ace. Rick Ankiel threw the ball past everybody, including his catcher. Matt Morris was set to join the starting rotation.
Out of nowhere came some rookie, some guy named Albert…Pajols? Is that how you pronounce it? Oh, Pujols. Interesting. I wonder how good he'll be.
Albert went one for nine his first three games. April 6, he hit his first major league home run, had three hits, and drove in three. The next day, he had two more hits, drove in three more runs, and his average was over .300. It never dropped below the rest of the season.
The rest, as they (or I) say, is the story of perhaps the greatest hitter in the last fifty years of the game.
Rookie of the year in 2001.
MVP in 2005.
MVP part deux in 2008.
MVP part three in 2009.
From 2000 to 2009, nobody accumulated a higher batting average, more home runs, or RBI in the game than Albert. That's right. He won the triple crown for a decade, not just a year, and he didn't even play in 2000.
Two Gold Gloves.
Four Fielding Bible awards.
Two Hank Aaron awards.
The Roberto Clemente award.
More importantly, two World Series titles in three tries.
And now, he's gone. Despite a ten-year, $210+ million offer, Albert has agreed to a ten year, $250+ million offer from the Los Angeles Angels of Anaheim.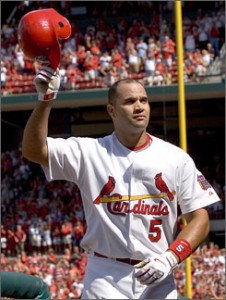 I couldn't believe it when I first heard. Pujols was our generation's Stan Musial. He was married and had kids; you never heard stories of infidelity that dogged other legends of the game. He was active in charity endeavors. He gave me someone to look up to. He was simply better than anybody else. And he was ours.
And now, he's gone. Despite assuring Cardinals fans the last few years he wanted to remain a Cardinal for life, that money wasn't the issue, he's gone. It's remarkable how quickly public opinion turns against someone when they find out they've been lied to.
People are already burning their Pujols jerseys. Nevermind that it's pretty easy to have the numbers removed and have a new name and number sewn on. I worked at a sporting goods store. I've done it.
People are already decrying him and hoping he tears the ligament in his elbow. Don't believe me? Go to a St. Louis sports forum. Most people are reasonable, but some extremists pretty much want to burn him.
Security guards have been posted at the Pujols statue in Westport to prevent vandalism.
Friends of mine on Facebook, who've always rooted on the Cardinals, are now joining in chorus with the rest of the nation by claiming he's older than he says he is.
I understand the sentiment. I just…it doesn't feel right.
I thought this was a baseball town. I thought Cardinals fans were supposed to be the best in the nation, a cut above the rest. This is something I'd expect to see in other towns, but not here.
Look, I understand people are upset. I'm upset. This will take time to get over as a baseball fan. If the Angels win the World Series in the next couple years, it'll be even tougher to watch. If you want to question his honesty, you're well within your right to.
Still.
I can't forget all the things he's done. Pujols took this franchise and put it on his shoulders. He had help along the way, don't get me wrong. When people think of baseball in St. Louis, though, they think of either Stan the Man or Albert. Day in and day out, he showed up to play, through the injuries and fatigue.
People would be wise to remember that it is just a game. Wishing injury or other maladies on someone is something I've never condoned or supported.
One can wax poetic about the romance of the game. I've done it. Field of Dreams is one of three movies that's made me cry. This wasn't a romantic decision, though. This was a business decision. Albert's been the top player in the game for the last decade, yet his salary lagged behind others. He wasn't even the highest-paid Cardinal. I do realize that when we're talking about millions of dollars, it sounds outrageous. It is, unfortunately, the nature of sports. Yes, the money could be spent giving better pay to teachers or improving schools, roads, etc., but let's be honest. Bill DeWitt and ownership probably aren't going to be donating that money. They're business men, and they're going to spend their money on something that will provide dividends for them. Keep in mind too that the Cardinals generate tax revenue for the city, jobs, and so forth. Pujols has been a vital part of that.
So now it seems like St. Louisans are split into a few groups. Some hate him and hope horrible things on him. Some respect his decision but hope he doesn't succeed. Some respect him and wish him well. Some are indifferent and think there are far more important things to worry about, like the Virginia Tech shooting, the state of the economy, internet censorship, blah blah blah…but what do they know, amirite?
Truth of the matter is (and this could well sound like a case of sour grapes), this could turn out to be a blessing in disguise. The next few years will be tough, especially if he stays healthy and productive. He will reach 500 home runs soon, most likely in 2013 (unless he has a career season next year). 600 could come two seasons after that, then 3,000 hits, then…
Who knows, though. That's the issue. He'll be 32 before the start of next season. He has a myriad of health issues, which will inevitably take their toll. Unless the Angels' contract is extremely front-loaded, that contract could become an albatross.
The Cardinals, on the other hand, just freed up perhaps $22 million a season.
This could become a key for future success in a few years.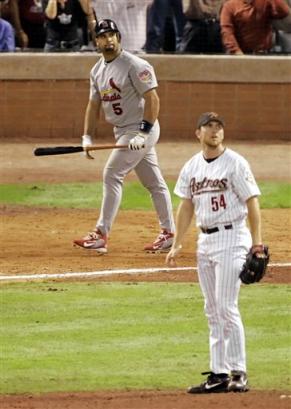 Yadier Molina's contract ends after 2012. Most likely the Cardinals will try to re-sign him.
Adam Wainwright's contract ends after 2013. If he returns to dominant form, the Cardinals will undoubtedly hope to re-sign him.
As David Freese, Allen Craig, and other instrumental young players earn experience, they will go through arbitration and contract negotiations and will need to be re-upped.
Free agents will need to be lured to St. Louis.
The Cardinals currently have roughly $80 million tied up to the 2012 club for nine players, one of whom is still in the minors (Zack Cox signed a major league contract when he was drafted). If owner Bill Dewitt's hopes for a $110 million payroll holds true, that means they'll have roughly $30 million for 17 more players. After 2012, even more payroll drops off as other young prospects such as Cox, Shelby Miller, Carlos Martinez, Kolten Wong, and Matt Adams emerge. The truth is, though, right now there are several different question marks for the Cardinals, and this will afford them the chance to address them.
Still, it sucks. I know that, and there's no rationalizing that. I just hope people realize that no, it's not the end of the world.
I might sound a bit arrogant here, so excuse me. I think one benefit of perspective that I have here over others is that I'm not just a Cardinals fan, I'm a baseball fan. I'm a student of the game and love discussing the sport with ANYONE, regardless of what team they root for. I have friends who are avid Cubs fans that I talk to on a regular basis, mostly out of pity. Kidding. Kind of. I love taking friends to games and talking the game to them. My friend Nick and I are now no longer allowed to discuss whether Babe Ruth or Ty Cobb was a better baseball player, as it has on occasion threatened to progress to fisticuffs. I coached a Little League team for the first time this year.
I love the game. I love the sport. Having grown up on a parallel with Albert (he's only four years older than I), I've loved watching him play the game, and he's truly one of the ambassadors of the sport. His greatness was not determined by the uniform he wore, but how he represented it. This will not change. I will applaud him when he reaches milestones, I will applaud when he is enshrined in Cooperstown. I will buy tickets for when the Angels play at Busch (interleague play will be expanding in 2013) and applaud him at his first at-bat.
And then I will promptly root against the Angels.
I'm a Cardinals fan.
Remember, too, that sometimes players who become local icons and leave often return. Jim Edmonds was traded but loved the city so much he came back for one day just so he could retire a Cardinal. Right now, we're going through what Seattle did a decade ago when Ken Griffey, Jr., left for greener pastures in Cincinnati. What happened there? He came back and retired a Mariner, basking in the adulation of Mariners fans after they'd suffered the same heartache we're suffering.
The team survived long before he got here. It will survive long after he's gone. We are Cardinal Nation.
To Albert, I say this.
Thank you for the last eleven years. I wish you the best of luck in your career, and I hope you can some day realize how much we loved you here and wanted you to be here.
I'll always remember the home runs I saw you hit live.
The home run derby you put on with Carlos Beltran in the 2004 NLCS.
The way you crushed Lidge's hopes and dreams in the 2005 NLCS.
Game 3 of the 2011 World Series. 'Nuff said.
And when you come back to Busch Stadium for the first time, I hope the fans remember that, too. We gave Craig Biggio a standing ovation, and he was an arch-rival for years. I hope they afford the same to you.
And then I hope the Cardinals beat the living $#!+ out of the Angels.
We are Cardinal Nation.