New Line Theatre Brings 'Night of the Living Dead' to Life, Now Through Nov. 2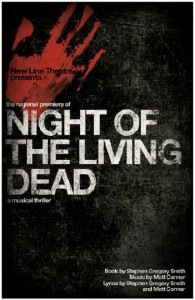 It's difficult to know just what to expect when you are about to see a musical based on George A. Romero's 1968 original horror classic – Night of the Living Dead. What you don't want to see is a bunch of dancing zombies in musical numbers, or songs that take light of the desperate situation the characters are in. Luckily none of that is in the show, which sticks very close to the source material. New Line's take is intense, creepy and full of slow-building tension.
Night of the Living Dead tells the story of seven strangers who happen upon an old farmhouse to take shelter from the zombie attack outside. Barbra (Marcy Wiegert) has been separated from her brother Johnny, and sent into a semi-catatonic state. Ben (Zachary Allen Farmer) happens upon Barbra, frightened and alone in the dark, and protects her as he takes charge of upstairs. Meanwhile Harry (Mike Dowdy) and Helen (Sarah Porter), along with their sick daughter Karen (Phoebe Desilets), are taking shelter in the basement along with a young couple – Tom (Joseph McAnulty) and Judy (Mary Beth Black). Although they often disagree on tactics and argue about who's in charge, they all share the one goal – to survive until morning.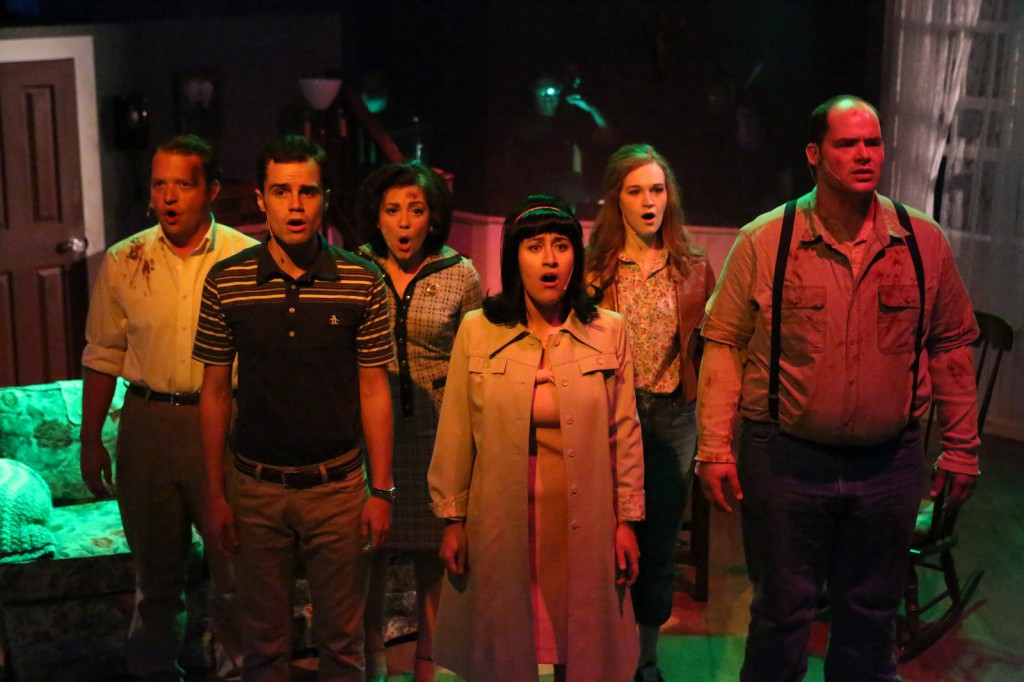 New Line's production stays very true to the source material. It follows all of the same beats for the most part, but tells much of the story in song – which works very well. Director Scott Miller does a fantastic job of leading the actors to tell a coherent story while giving intense performances, surrounded by tension at every turn. If you have seen the 1968 film you will pick up on all the important plot points, as well as many carefully crafted similarities in the writing and direction. The creatives do a great job of telling the same story, but in a completely different way.
The show is unlike anything I have seen in musical theater. Writers Matt Conner and Stephen Gregory Smith have found a way to translate the classic horror story into music and lyrics that are just as terrifying and suspenseful as the original film. It is an extremely intense show, with every character on and ramped up to 11. The music is dark and eerie, perfectly reminiscent of a Romero film. The New Line Band does a great job bringing their work to life. Meanwhile the actors sing their notes in classic horror movie fashion, recreating the effect that tense, slowly-building music does in horror.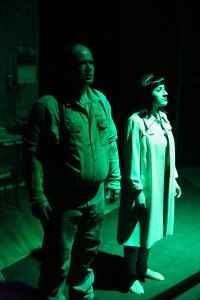 The entire cast is fantastic, each of them giving powerful performances throughout their time on stage. Zachary Allen Farmer has proven that he can do anything, and slide into any role – so it is always a delight to see what character he tackles next. There is a lot of emotion displayed from him as Ben, as well as strength. Farmer brings his full range of talent, including his vocal ability, as the show puts it to the test. We see his compassionate side as he tries to to take care of Barbra, which proves to be a challenge given her mental state. Marcy Wiegert is phenomenal in the role, as she seamlessly portrays the catatonic character. Her performance is chilling, intense and never skips a beat. She is center stage for the majority of the show, and never break character.
Mike Dowdy does an incredible job of playing the villain, if there would be one in the show, which is Harry. For such a friendly and likable person off-stage, Dowdy truly knows how to make you hate one of his characters. And Harry is someone you really hate. There are several moments throughout the show where Ben puts him in his place, and you can't help but to smile. Sarah Porter plays Helen, who you can't help but to feel sorry for as she puts up with his ego. Porter has a great voice, as shown in their duet "Drive."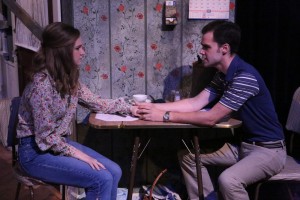 Black and McAnulty both impressed me with their performances in Next to Normal, and do a fine job as the young couple who so desperately wants to survive like the others. Their characters don't always have as much to do as the others, but they give it their all in "We'll Be Alright." Both have great voices.
Third-grader Phoebe Desilets waits patiently on-stage until the very end of the show for her big moment. And when the time comes, all I will say is it is worth the wait.
The set design was magnificent, and worked perfectly for the show. Rob Lippert has created a multilevel stage which is both functional and believable as an old lived-in house. The attention to detail is great, with everything from the decoration and furniture to eerie props that tie in with the plot. Lippert was able to craft a first and second floor, along with a basement all on a modest stage. And the result was magic.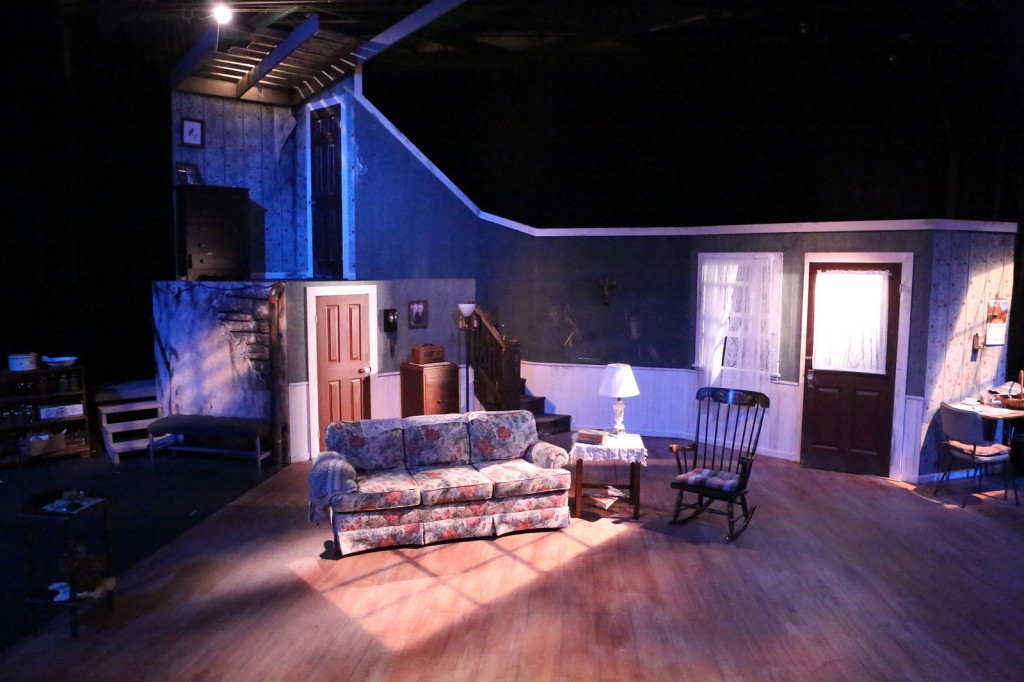 For fans of musical theater, this is a show that you have never seen before. And although it is a musical, the subject matter is just as serious as the film it comes from. For fans of Romero's work, you've never seen it like this – and it's a must see. Expect to feel the tension and hopelessness fly off of the stage and into the seats, and hold on until morning.
---
The regional premiere of Night of the Living Dead runs Oct. 10 – Nov. 2. For more information visit newlinetheatre.com, and purchase tickets at Metrotix.com.