New Line Bringing Back "Police Academy"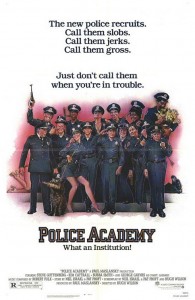 I did not read "reboot" in the press while reading about this new take on Police Academy, but make no mistake it is a reboot. Most likely Hollywood has begun to notice they have been throwing around their latest buzz word a bit too much. So, the famous Police Academy films which spawned seven (yes, seven!) films is coming back to the screen courtesy of  New Line Cinema and producer of the original films, Paul Maslansky. Currently no writers or directors are attached.
The original Police Academy film starred Steve Guttenberg as a man forced to go through Police Academy, only to shoulder the responsibility of leadership. The series had such people as Bobcat Goldthwait, Kim Catrall, Michael Winslow, Sharon Stone, among others.
"It's going to be very worthwhile to the people who remember it and to those who saw it on TV," producer Maslansky said. "It's going to be a new class. We hope to discover new talent and season it with great comedians. It'll be anything but another movie with a numeral next to it. And we'll most probably retain the wonderful musical theme."
Police Academy is one of those films you love when you are younger, because you aren't supposed to be watching it. However, if you go back and watch the films now, they don't seem to have aged as well as other successful comedies of the 80s. It is another franchise that I can't see making much of an impact at the current box office, and seems more suited for a straight to DVD release.
Note: I still think the next animal I have will be named Steve Guttenberg.