New "Iron Man 2" Full Clip of Stark Expo Online!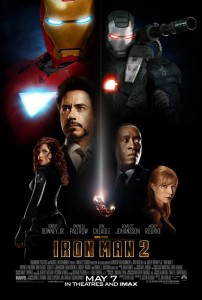 Is the anticipation for this movie palpable or what? Who would've guess that a second tier Marvel character would be the draw of the summer? Geeks like me knew who Tony Stark and Iron Man were before the previous film, but how many others did? Iron Man has made his way to the A-list, and has brought back Robert Downey Jr. with him.
Let's name a few things that this clip has that everyone loves:
An awesome superhero in a mech suit.
A cool little flying sequence. (That will look way cooler on the big screen I would guess.)
Girls in skimpy outfits.
Robert Downey Jr.
Did I miss anything?
Synopsis:
The world is aware that billionaire inventor Tony Stark (Robert Downey Jr.) is the armored Super Hero Iron Man. Under pressure from the government, the press and the public to share his technology with the military, Tony is unwilling to divulge the secrets behind the Iron Man armor because he fears the information will slip into the wrong hands. With Pepper Potts (Gwyneth Paltrow), and James "Rhodey" Rhodes (Don Cheadle) at his side, Tony forges new alliances and confronts powerful new forces.
Cast: Robert Downey, Jr., Gwyneth Paltrow, Don Cheadle, Mickey Rourke, Sam Rockwell, Scarlett Johansson, Samuel L. Jackson
Director: Jon Favreau
Genres: Superhero Film, Sci-Fi Action, Action
Release Date: May 7, 2010
Watch the original trailer here.
Watch the Iron Man 2 AC/DC Video.
Watch the LATEST trailer here.