New Iron Man 2 Trailer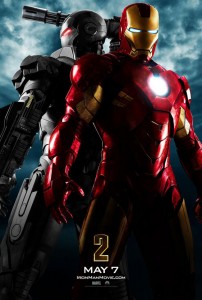 Every single still image I've seen so far for Iron Man 2 made me kind of shrug my shoulders. Finally! Here is something that makes me become impatient for May. The first one was some great escapist fun. It was so much fun that I paid to see it multiple times in theaters, and I even took my mom to go see it. Dedication right? If this trailer is any indication of the quality of the second film, then we have another winner on our hands. My guess is that this film will have a Dark Knight style opening weekend. It may not go on to gross as much, but it won't be too far off. Get ready for record shattering weekends in May.
BTW, how awesome was the end of that trailer? I won't say what, so as not to ruin it for anyone, but really? Once you see it you'll understand.
Synopsis:
The world is aware that billionaire inventor Tony Stark (Robert Downey Jr.) is the armored Super Hero Iron Man. Under pressure from the government, the press and the public to share his technology with the military, Tony is unwilling to divulge the secrets behind the Iron Man armor because he fears the information will slip into the wrong hands. With Pepper Potts (Gwyneth Paltrow), and James "Rhodey" Rhodes (Don Cheadle) at his side, Tony forges new alliances and confronts powerful new forces.
Cast: Robert Downey, Jr., Gwyneth Paltrow, Don Cheadle, Mickey Rourke, Sam Rockwell, Scarlett Johansson, Samuel L. Jackson
Director: Jon Favreau
Genres: Superhero Film, Sci-Fi Action, Action
Release Date: May 7, 2010