Barbara Walter's 10 Most Fascinating People of 2009 List
Barbara Walters announced her top ten most interesting people of 2009. Here is the complete list: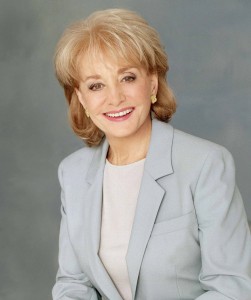 1. Michelle Obama
First Lady Michelle Obama is Barbara Walters' Most Fascinating Person of 2009. The first lady reflected on her "whirlwind" year, marriage and workout.
2. Lady Gaga
Not just any other pop singer, Lady Gaga has exploded into a cultural phenomenon, making her mark in the world of entertainment in just one year. She became the first artist ever to have four No. 1 hits off a debut album, receive an MTV Video Music Award for Best New Artist and become one of the Most Fascinating People of 2009. She talked to Walters about her skyrocketing career, her family, and what she believes is the biggest misconception about her.
3. Glenn Beck
Controversial political commentator Glenn Beck has the most-watched cable news show on television, hosts a radio show that draws 8 million listeners and is one of the Most Fascinating People of 2009. Walters talked to Beck about what he calls his libertarian views, his battle with drugs and alcohol, and the "fascist" Obama administration. Asked about the president, Beck said, "I don't believe he's a man who says what he means and means what he says."
4. Tyler Perry
Entertainment mogul Tyler Perry is an actor, writer, producer, oversees a multi-million dollar empire, and is one of the Most Fascinating People of 2009. Perry came a long way from a difficult childhood – he had an abusive father — to entertain audiences across America with famous characters like "Madea." Perry talked to Walters about creating his most-famous character to date: "When my mother was trying to protect me from my father, she started taking me everywhere with her. If I made one more trip to Lane Bryant I would have just died! She took me to the hair salon, all these women would get together and have their card games … it gave me a sense of, a different sensibility toward women."
5. Kate Gosselin
Kate Gosselin was thrust into the spotlight when her family's TLC reality show, "Jon & Kate Plus 8," became a hit. The media frenzy escalated when revelations surfaced that her husband and father of her eight children had cheated on her. The couple and their children emblazoned magazine covers everywhere, and a child custody battle between the parents ensued. Gosselin told Walters about the tumultuous year and what she has lined up for the future.
6. Adam Lambert
Season 8 "American Idol" runner-up Adam Lambert is one of this year's 10 Most Fascinating People. In the special, Lambert addresses those who criticized his risque performance at the American Music Awards, his sexuality and being openly gay in the public. He tells Walters, "You know, I am who I am, and I think that freedom of expression should be alive and well, and unfortunately it's not."
7. Sarah Palin
With the release of her memoir, "Going Rogue: An American Life," former vice presidential candidate and Alaska Gov. Sarah Palin sat down with Walters to discuss the 2008 campaign, her political aspirations and the toll fame has taken on her family life.
8. Brett Favre
Star NFL quarterback Brett Favre made headlines when he turned his back on retirement to join the Minnesota Vikings. He is the only player to win the Most Valuable Player award three consecutive times.
9. Jenny Sanford
South Carolina's first lady Jenny Sanford, who was thrust into the national spotlight when her husband, South Carolina Gov. Mark Sanford, admitted to an affair with a woman in Argentina, is one of this year's 10 Most Fascinating People. A special Barbara Walters interview with Jenny Sanford will air on ABC in April 2010.
10. Michael Jackson's Three Children
Michael Jackson's three children — Paris, Prince Michael and Prince Michael II — have had to deal with the very public loss of their beloved father. The children, who are among this year's Most Fascinating, have come a long way from the days when they appeared in public wearing feathered masks or veils.
Read more at abcnews.go.com. What do you think of the list? Would you remove anyone? Is anyone missing? Leave a comment below!