Anna Friel Joins Bradley Cooper in "Dark Fields"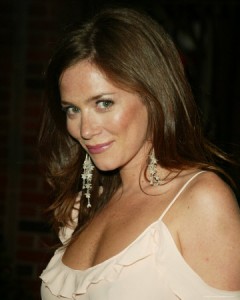 Anna Friel is going to have good company soon. She has signed on to Dark Fields in which she will star opposite of other rising star Bradley Cooper. She joins a cast that includes Robert DeNiro, Tomas Arana, and Abbie Cornish.
Dark Fields is a sci-fi thriller starring Bradley Cooper as a down on his luck writer, who discovers a top secret wonder drug which makes you smarter. Things immediately start looking up for the writer, but the medicine has possibly lethal side effects, and he has attracted the attention of a series of antagonists. Friel will be playing his character's ex-wife.
The premise of this film sounds great, and it has an exceptional cast. It is the third feature from the director of The Illusionist, Neil Burger. I still haven't seen his last film, The Lucky Ones, mainly because its mixed reviews have not given me the motivation to getting around to see it. I'm hoping this will be a better followup to the suprisingly original period piece, The Illusionist.
I'm glad to see Friel is getting more work these days. I was a little upset for Lee Pace, Chi McBride, Kristen Chenowerth, and her after the demise of Pushing Daisies, but it seems they are all getting plenty of work these days.