Movie Review: 'White House Down' Starring Channing Tatum, Jamie Foxx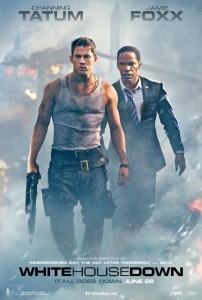 I'm a huge Roland Emmerich fan. I want this to be known. Some of my all time I-can-watch-this-a-thousand-times movies are his. Some of his great action-story films like Independence Day and The Patriot hold special places in my nostalgia bank. Heck, nothing beats watching his crazier over the top what-if films like The Day After Tomorrow and 2012 – just make sure you have friends and popcorn.
There was genuine excitement for White House Down. It could be a return to Emmerich's glory days. To this day, the only movie I've ever walked out on was 10,000 B.C. He's done this formula before; funny action hero saves the day with more than competent young president (Independence Day, anyone?). I had my popcorn, my friend, and my excitement.
White House Down shares a similar plot with another summer film, Olympus Has Fallen. The movies revolve around a similar plot, and don't go blaming either one for copying each other. This isn't something new. Hollywood has been doing this a long, long time. One studio will begin pre-production work while another studio will get wind of it and start a similar project to capitalize on the popularity of the theme. It's how films like Armageddon and Deep Impact happened.
The film follows down on his luck former veteran, Cale – played by the charismatic Channing Tatum. The film tries to convey to us that Cale is having a hard time finding his place in the real world after a well-respected military career (which is hard to believe since he's currently a personal guard for Speaker of the House, played by Richard Jenkins). Oh, he's also a father struggling to connect with his daughter Emily, played by actress Joey King. Emily is a bright girl who is fascinated by politics and our nation's history (not entirely believable, but okay, we'll roll with it). As a struggling (sort of?) bodyguard, Cale has higher ambitions and is calling in favors to hopefully secure a position within President Sawyer's (played by Jamie Foxx) Secret Service. To be that awesome dad, Cale decides to take Emily on a tour of the White House while he goes there for his interview. As you can expect, things don't go well for our man Cale – who has an awkward encounter with an old flame, Secret Service Agent Finnerty, played by the beautiful Maggie Gyllenhaal. So with no hope of becoming a super awesome secret presidential bodyguard, Cale and Emily are just about to leave the White House when, you guessed it, all hell breaks loose.
This is where Emmerich's strengths shine. The man is good at action; he knows how to shoot and what to shoot. The White House becomes a victim – literally – of a domestic terrorist attack lead by (gasp!) the head of the Secret Service, which is played by the awesomely rub-you-the-wrong way James Woods. Cale ends up running into President Sawyer in the chaos and the two go about thwarting the terrorist and rescuing Cale's daughter (who gets herself kidnapped). What follows are some great action scenes and funny dialogue between Tatum and Foxx, but there's quite a laughable ending scene with Emily. Just wait for it.
There's some cool twists, some sweet explosions, but ultimately the film falls victim to its many plot holes and odd pacing. On one end we have this buddy comedy between Cale and President Sawyer with sweet action scenes and then we're met with some serious scenes between Emily and her captors. It felt awkward.
So in the end, if you choose to see a "White House gets blown up" flick this year, make it Olympus Has Fallen – and go ahead and Redbox White House Down.