Concert Review: "Masters of Madness" Tour Featuring Marilyn Manson and Alice Cooper at the Family Arena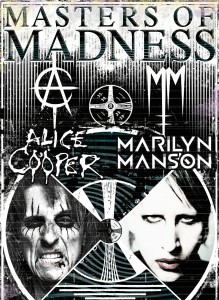 The "Masters of Madness" tour featuring Marilyn Manson and Alice Cooper rolled through The St. Charles Family Arena on Tuesday night. The concert was a dream pairing for 'shock rock' fans, but it also brought two generations of rock music fans together. That was evident in the crowd on Tuesday night. Speaking of the crowd, to say it was sparse would be kind. While the Family Arena is a nice venue, this show would have been better suited for The Fox Theatre or Pop's. There just were not enough people there to fill the arena. Whether it was the economy, or the fact that Manson hasn't had a hit in a few years, the crowd that was in attendance seemed to be pro-Cooper. At first, I was surprised at this, but after Cooper's performance, I understood why.
Manson took the stage first, rolling through a tight 60-minute set that featured hits "The Dope Show," "Rock is Dead," and "Disposable Teens" among others. The shock rocker opened the show stating that he didn't know whether to say hello to St. Charles or St. Louis.
"There are a lot of Saints around here, aren't there," Manson proclaimed to the crowd. "Then why are you all in misery?" Manson was word playing on the name of the state of Missouri.
Manson's best performance of the night featured a backdrop of the American Flag accompanied with several memorable speeches by past presidents for the song "Personal Jesus." His set also featured a giant wooden chair at one point, which he climbed and rolled around on during his performance of "mOBSCENE". Manson also appeared on his now trademark stilts, which put him at almost 10 foot tall, during "Sweet Dreams" a former Eurythmics hit. He closed the show with performances of "Antichrist Superstar" and "Beautiful People," as confetti showered the audience.
Having seen Manson a half-dozen times before, I felt he was at his tamest this time around. I felt this was a show that one could have taken their 13-year old to and felt pretty comfortable with the performance. Manson, now 44, could be mellowing out with age, or it could be the fact he is reportedly sober. Whatever the reason, he was definitely not as vulgar, offensive, or violent as years past, and still managed to give a solid performance.
After the Manson set, I was expecting a lot of fans to leave, however, I was surprised that the vast majority stuck around. Alice Cooper did not disappoint. While nowhere near as dark and strange as Manson, Coopers 70-minute set was filled with pyrotechnics and heavy guitar riffs. I felt like I was back in the 1970s and 80s rock scene. It was an all-out blast.
Cooper, now 65, sounded great. He was backed by a great band, which he allowed to showcase their talents. Cooper's guitarist, the beautiful Orianthi, who had her own hit, "According to You" and was also going to play guitar on the Michael Jackson "This is It" tour, was the highlight of the band. The crowd sang along with classics "No More Mr. Nice Guy," and "I'll Bite Your Face Off."
While I enjoyed the entire set from Cooper, I particularly enjoyed "Poison" and "Feed My Frankenstein". Cooper appeared in a large Frankenstein costume during the performance. Always known for his theatrics, Cooper did not disappoint, as he was placed in a straight jacket to perform the dramatic "The Ballad of Dwight Fry." The song ended with Cooper having his head "chopped off" in a guillotine as the crowd roared with delight. His final two songs featured brightly colored beach balls and confetti for "School's Out," which also incorporated Pink Floyd's "Another Brick in the Wall". Manson then appeared for Cooper's encore of "Eighteen," as the two performed together to close the show.
Cooper showed that while he has mellowed out over the years, he can still rock an arena after a 40-year career. Overall, it was a great show with two of rock music's more controversial figures over the last few decades. Manson delivered a solid performance, but it was Cooper who shocked and wowed the crowd in the end.