Movie Review: 'Prisoners' Starring Hugh Jackman, Jake Gyllenhaal, Paul Dano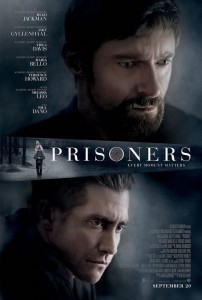 It's hard to even fathom what it would be like to lose a child. One might argue that it would be even harder for one of your children to go missing, constantly battling with the thought of where they are and what is happening to them. No closure, just the never-ending struggle of living day to day with nothing else on your mind. Prisoners is the psychological study of what one might do if faced with the unthinkable situation, and how far they would go to get back what is most important to them.
The Dovers are the picture-perfect, average American family. Keller Dover (Hugh Jackman) runs a home remodeling business, working hard to support his middle-class house where his wife Grace (Maria Bello), son Ralph (Dylan Minnette) and daughter Anna (Erin Gerasimovich) live. Their neighbors Franklin (Terrence Howard Terrence Howard) and Nancy (Viola Davis) invite the Dovers to spend Thanksgiving with them, along with their daughters Joy (Kyla Drew Simmons) and Eliza (Zoe Borde). Before dinner, Ralph and Joy are tasked with watching their younger sisters, which includes stopping them from playing on a run-down RV in the neighborhood. After returning home, Anna realizes that she has forgotten her red safety whistle and convinces her parents to let her go home with Eliza to get it. They tell the two to get their brother and sister first, and send them on their way. As time passes, the parents look for the girls and discover that the older siblings never heard from them. That quickly, the simplest decision turns into a parent's worst nightmare.
After the girls go missing, Detective Loki (Jake Gyllenhaal) is assigned the case. Loki has a perfect case record, and promises that he will find the girls. But meanwhile, an angry and unpredictable Mr. Dover feels like no one is doing enough while every crucial minute passes by. Suddenly Loki not only has the pressure of dealing with the case, but also keeping a close eye on Dover.
The title Prisoners is an ambiguous one. Yes, on the surface it means that the two little girls are prisoners somewhere. But that is only the simplest and most obvious meaning. The film is most certainly a psychological thriller, taking the audience along for the dark and disturbing ride that its characters are forced to experience. The parents of the missing children also become prisoners, not necessarily to any captor except for themselves. Hugh Jackman's gripping performance tells how painful it would be to be imprisoned in his Dover's mind. As days go by, hope turns to doubt, and doubt turns into misery – which ultimately transforms into desperation. Dover's actions become questionable, as he sees and hears things that the police do not for whatever reason. They raise the question of what is right and wrong, and how far would you go to save the ones you love.
Gyllenhaal's character is no more immune to becoming a prisoner than anyone else in the film. As the clock ticks, Detective Loki becomes a prisoner to the case. Not only does he have to deal with finding the two girls, but he is also forced to deal with their parents and his fellow police officers. In a bold attempt to give the parents some sort of solace, Loki makes a promise that he will find the girls. The moment that he makes the promise, one which he can't guarantee to keep, is the same moment that he becomes a prisoner.
Paul Dano gives what may be the best performance of his career, as the creepy RV owner and prime suspect in the kidnapping. Although early on we find out Alex is far below average intelligence, there is more than meets the eye with the character. Dano gives a harrowing performance as the challenged youth who is just as much a prisoner as anyone throughout the film. Melissa Leo also knocks it out of the park as Alex's aunt, who has cared for him since he was a child.
At 2 hours and 33 minutes, the film is as thrilling and compelling toward the end as it is in the beginning. Having two main characters, the well=paced story seamlessly bounces back and forth between Jackamn and Gyllenhaal. Jackman's performance as Dover gives us insight into the mind of a parent who suffers from our worst fears, where Gyllenhaal's detective Loki gives us a grounded character who can view the events of the film objectively from the outside. The combination is triumphant in overcoming the pitfalls which could have easily turned it into a by-the-numbers thriller. Instead what we get is a stimulating film, bursting with raw emotion and visceral performances which suck you in and never let go.
Prisoners is an A.