WWE Monday Night Raw Review (9/16) – The Corporation, Randy Orton and Daniel Bryan
Following a lackluster pay per view, I wasn't sure where WWE was going to go with Raw. I was shocked that Daniel Bryan won the title – feeling that it's too soon to leave Randy Orton in the dust as champion. And then WWE pulled one over on me, as I didn't really expect Triple H to come out and strip Bryan of the title.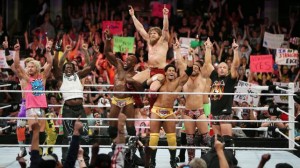 Monday's Raw will be remembered as a ­show all about The Corporation, Randy Orton returning to his Viperous ways, and Daniel Bryan gaining support from the rest of the company.
Yes, there were other matches, but none of them were really memorable or important. RVD continued his push against Alberto Del Rio, while Dolph Ziggler looks to be starting a feud with Dean Ambrose. I am looking forward to this one. Both men are top wrestlers in the company, both worthy of title shots, so this feud should be welcomed with open arms by wrestling fans.
Now, back to the main topic at hand, The Corporation, and their battle with Daniel Bryan and the Rhodes family.
I personally thought the segment of Dusty Rhodes and Stephanie McMahon was going to be a boring one, but boy was I wrong. The American Dream delivered. Stephanie came off as her usual spiteful and vindictive self, which worked very well. Having the Big Show come out was masterful. Show had to choose between Rhodes getting torn apart by The Shield, or knocking him out. Rhodes sold the knockout punch wonderfully. For being near 70, The American Dream is looking good. He has dropped some weight and looks to be in better health. This storyline will undoubtedly continue. I expect Goldust to return for revenge against Triple H and Stephanie.
Speaking of Triple H, I have to wonder who will be fired next? It seems like he is firing someone every week. Will he put the belt back on Orton? The segment of Triple H and Stephanie telling Orton he needed to be more vicious was a preview of what was to come later in the show.  Being in Cleveland, home of The Miz, it was a perfect time for Orton to show his devious side. The match with The Miz was ultra-violent. To destroy The Miz in front of his parents was superb writing. It added a lot to Orton's vile character. I look for Orton to destroy someone else next week, as he is on a quest to get his title back.
Meanwhile, the McMahon faction continues to make Daniel Bryan's life a living hell. His match with Roman Reigns was another solid bout. I think everyone knew that The Shield would interfere, but this time Bryan had backup. Nearly every wrestler on the roster exploded toward the ring to save Bryan from a beating. To end Raw with the wrestlers hoisting Bryan onto their shoulders was a great show of respect for a guy who works harder than anyone. This will probably lead to Triple H firing someone to flex more of his corporate muscle. All in all, another solid show for Monday Night Raw, which was needed after a lackluster Night of Champions.
Photos © WWE.